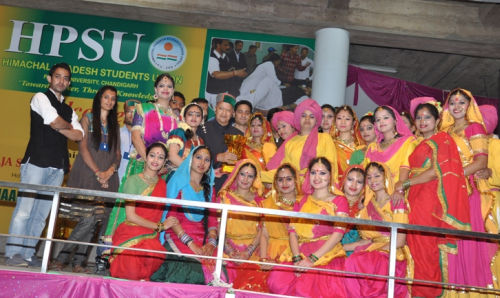 Chief Minister Virbhadra Singh said that State Government had made budget provision of Rs. 3836 crore for education sector in the State for next financial year which was 17.6 % of the total budget. He was speaking on the occasion of 9th Annual cum Prize Distribution Function "Ek Sham Himachal Ke Naam" of Himachal Pradesh Students Union, Panjab University at Chandigarh.
Virbhadra Singh said that State Government had taken a historic decision to provide allowance to educated unemployed persons for their skill up-gradation. He said that skill development was key to employment generation and Government was going to establish State Skill Development Council in the State. He said that the State government had also announced cash incentives to the meritorious students of Himachal Pradesh who qualifies for seeking admission in IIT's, IIMs and AIIMS for further higher education.
Chief Minister said that State Government recognize the importance of youth power, and was making strenuous efforts to provide them best opportunities in education, vocational training and creating enormous employment avenues in both government and private sector. He said that Government was endeavoured to strengthen the educational network in the State besides creating an atmosphere where they could get better opportunities for employment and self-employment.
Virbhadra Singh said that State Government was giving special emphasis on improving the quality of education by having the right curriculum, trained teachers and improvement in infrastructure. He said that Himachal Pradesh had made rapid strides in education sector and it was matter of pride for all of us that literacy rate of Himachal Pradesh had reached more than 83 percent and enrolment levels in the State were also one of the highest in the country
Chief Minister said that Himachal Pradesh Students Union of Punjab University deserves special appreciation for its significant contributions in promoting the rich cultural heritage of Himachal Pradesh out of the State. He said that large number of students from Himachal Pradesh who were studying in various educational institutes of different States had formed their Unions and thus they can shoulder each other's problems and also provide them a safer atmosphere to express themselves through arts and activities.
Virbhadra Singh lauded the role of Himachal Pradesh Students Union for actively involving themselves in social and cultural activities He said that such kind of activities help the younger generation to understand their social obligations and responsibilities towards the nation.
Chief Minister appreciated the cultural programme presented by the students and announced Rs. two lakh for H.P. Students Union. He also gave away prizes to the students for various activities and also distributed prizes to the students.
Chief Minister released the souvenir of Himachal Pradesh Students Union titled "Him-Anchal". He also released two books titled " The Legacy of Indian Art, Continuity and Change by Prof. Ashwani Aggarwal and "Goddess Worship in the Western Himalayas-Temple, Tradition, Art and Ritual written by Dr. Deepak Rawat.
Earlier Kuldeep Singh Rawat, President, Himachal Pradesh Student Union, welcomed the Chief Minister and detailed about the activities of Union. He said that Student Union had been organising Blood Donation Camps in the memory of Martyr, Capt. Vikram Batra since 2002 and 12 blood donation camps were organised till now. He said that Students Union had played active role in the renovation of Himachal Pradesh Serai Bhawan at Sector 24 and construction of Seva Sadan at Sector 25 in Chandigarh with the blessings of Virbhadra Singh.
Chief Parliamentary Secretary Neeraj Bharti, MLA, Bamber Thakur, Chairman, Building and Other Construction Workers Welfare Board, Bawa Hardeep Singh, Ex MLA Lakhvinder Rana, Vice Chancellor, Punjab University, Prof. Arun Grover, Dean, Punjab University, Dr. A.S. Ahluwalia, Director cum Principal, Government Medical College Chandigarh, Dr. Raj Bahadur, were also present on the occasion.