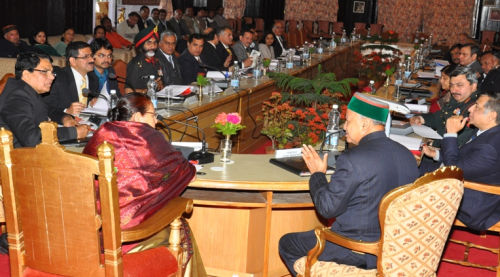 The 24th meeting of State Sainik Welfare Board and 42nd meeting of State Managing Committee for Management and Administration of Special Fund for Reconstruction and Rehabilitation of Ex-Servicemen were held here today. Governor Urmila Singh presided over the meeting and Chief Minister Virbhadra Singh was also present in the meeting.
Speaking on the occasion, Urmila Singh emphasized upon generating more employment opportunities for ex-servicemen and stressed on focusing upon effective rehabilitation schemes for them after retirement.
Governor lauded the contribution of ex-servicemen in the armed forces and added that their interests should be protected at all cost. Effective and speedy implementation of welfare schemes for ex servicemen should be ensured, she added.
She appreciated the steps being taken by the Government for the welfare of ex-servicemen which included 15 per cent reservation in government jobs, scholarship schemes for their children, loan facilities for self-employment ventures besides various other incentives. She said that the meeting of the Board should be convened regularly and evaluation and monitoring of the schemes should be done from time to time.
Virbhadra Singh, Chief Minister said that long pending issue of one rank-one pension had been accepted by the Centre Government and expressed his gratitude to GOI for the decision taken as it would benefit a large number of ex-servicemen in the state.
Chief Minister reiterated the commitment of the Government for welfare of the serving soldiers as well as ex-servicemen and their families. He said that the Government had increased the rates of annuity payable to Gallantry Award Winners from time to time and added that initiative to increase the annuity payable to the Param Vir Chakra winners from rupees 4500 to rupees one lakh 25 thousand, Ashok Chakra from rupees 4,000 to rupees one lakh, Mahavir Chakra from rupees 3600 to rupees one lakh, Kirti Chakra from rupees 3300 to rupees one lakh, Vir Chakra from rupees 2700 to rupees 50 thousand and for Shaurya Chakra winner from rupees 2400 to rupees 50 thousand was taken in 2006, during his tenure.
Virbhadra Singh said that the annuity payable to all other gallantry and distinguished awardees had been doubled. He said that for new gallantry award winners, the State Government was providing one time lump-sum grant instead of cash award, annuity and grant-in-lieu of land. He said that one time grant for Param Vir Chakra and Ashok Chakra was rupees 25 lakh, for Mahavir Chakra and Kirti Chakra was rupees 15 lakh and for Vir Chakra and Shaurya Chakra it was rupees 10 lakh.
Chief Minister said that the Government had also introduced 34 welfare schemes for the rehabilitation and welfare of ex-servicemen, war widows and their dependents. Financial assistance of rupees 750 per month was being provided to Second World War Veterans or their widows, he added.
Virbhadra Singh said that government had enhanced pension of rupees 500 per month from April, 2013 to the ex-servicemen and widows of ex-servicemen, who were above the age of 60 years and were not in receipt of any pension from the Centre or State Government. He said that an increase in War Jagir from rupees two thousand to rupees three thousand to the parents of those who have served in national emergency had been made.
Chief Minister said that Ex-gratia was provided from the Chief Minister Sainik Welfare Fund in various cases. He said that rupees three lakh was provided to the families of soldiers killed in action, rupees one lakh to disabled soldiers suffering more than 50% disability and rupees 50 thousand to soldiers suffering less than 50% disability. He said that rupees 25 thousand was given in case of death due to other causes and Rs. one lakh was given in case of death of para-military personnel, in action. Gallantry award winners and war widows of the State were getting free travel facility in HRTC buses, he added.
Chief Minister said that many welfare measures for ex-servicemen and their families had been promised in the Election Manifesto, which now had been adopted as a policy document of the State Government. He said that these include extension of CSD and ECHS facilities in areas having sizable population of ex-servicemen, 10% reservation to ex-servicemen in PDS centers and free travel facility to Gallantry Award winners in all Deluxe and Volvo buses operating in the State.
Dr Col. Dhani Ram Shandil, Social Justice and Empowerment Minister who also holds the portfolio of Sainik Welfare, in his welcome address said that the welfare of ex-servicemen, serving soldiers, war widows and Gallantry Award Winners was priority of the government. He said that the state was proud of soldiers and ex-servicemen who won laurels and brought honour to the State. He said that State had the honour of contributing largest number of personnel to the Armed Forces and added that there were 1,20,600 serving soldiers, 1,04,896 ex-servicemen, 1074 War widows and 28,667 other widows in the state.
Ashish Singhmar, Deputy Commissioner Hamirpur –cum- Director Sainik Welfare detailed about various activities being undertaken for the welfare of ex-servicemen. Bharat Khera, Secretary GAD and Sainik Welfare conducted the proceedings of the meeting.
Major General Neeraj Bali, MG-IC-ADM, Western Command thanked the Governor and Chief Minister on behalf of Lt. General Sanjiv Chachra, GOC-in- Chief, Western Command for resolving long pending issues of army besides serving and retired army personnel. Chief Secretary S. Roy, Additional Chief Secretaries, Principal Secretaries, Senior officers of State Government and Army, Official and Non-Official Members of the Board attended the meeting.