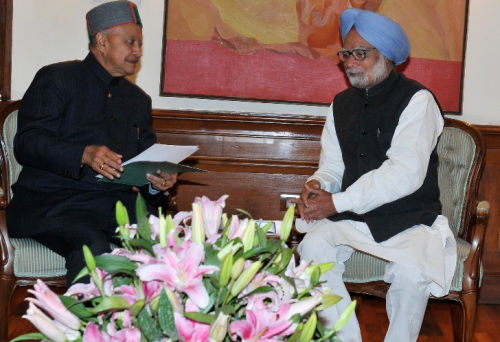 Chief Minister Virbhadra Singh met the Prime Minister, Dr. Manmohan Singh, at New Delhi today and discussed various issues of the State.
The Chief Minister urged the Prime Minister to provide liberal assistance for completion of on-going centrally aided projects and also timely clearance of the projects lying pending with Government of India.
Virbhadra Singh asked for resumption of special industrial package and incentives to the State so as to accelerate the industrial growth and help in generating employment opportunities. Besides, he also urged for enhancing the industrial package till 2020.
The Chief Minister also requested the Prime Minister to provide special financial package of Rs. 7,565 crore to tide over the difficult financial situation, as the 13th Finance Commission misjudged and miscalculated the committed liabilities of the State. He said that the gap in the committed liabilities, in terms of salaries, pensions and interest had been Rs. 3,522 crore during 2012-13 and which was likely to increase to Rs. 4,043 crore during 2013-14. The Prime Minister assured that the matter would be examined to bring down the fiscal deficit.
Virbhadra Singh urged the Prime Minister to reconsider the State's request for restoring the cut-off Rs. 106.08 crore in the approved Special Central Assistance (SCA) allocations for the year 2012-13. The State was allocated a special central assistance of Rs. 900 crore during the financial year 2012-13. However, the Govt. of India was allocating only Rs. 793.92 crore during the current financial year, he said.
The Chief Minister requested for uniform funding of the centrally sponsored schemes in the ratio of 90:10 for all the special category states. At present the funding under Sarv Shiksha Abhiyan (65%), Mid Day Meals Schemes (75%), Indira Awaas Yojana (75%), Rashtriya Madhayamik Shiksha Abhiyan (75%), Swaran Jayanti Gram Swarojgar Yojana (75%), Nutrition Component of ICDS (50%) and the ambulance Service under NHM (20%) which were less for Himachal Pradesh, as compared to other Special Category States in the North-East.
Virbhadra Singh also requested that the GoI should delegate the powers to accord environmental clearances for hydel projects to the State Government as the Hydel power was one of the clean source of energy and Himachal Pradesh was endowed with huge hydel-power potential. However, even the execution of run-of-the-river hydel power projects were being delayed inordinately due to the delay in environmental clearances from the Ministry of Environment & Forests.
The Chief Minister requested the Prime Minister to restore the air services to Shimla, Kullu and Kangra and increase the frequency of air services keeping in view the vast tourism potential of the State.
He said that if these issues were resolved, the present Government in Himachal Pradesh could fulfil the developmental aspirations of the people. Dr. Manmohan Singh assured to consider all the demands of the State government on priority and initiate measures to speed up the development in the State.