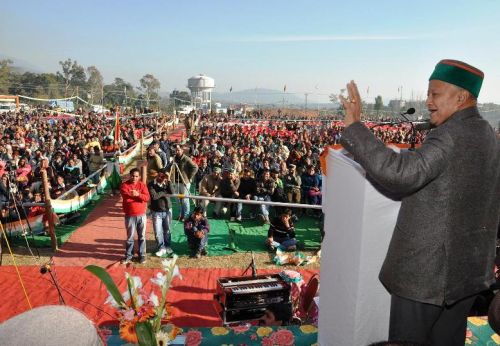 In the honour of Chief Minister Virbhadra Singh, Congress supporters organised massive rally 'Samman Samaro' at Dharamshala today. While addressing the rally Virbhadra Singh thanked electorates for their overwhelming support in the election and promised uneven development of the region. Chief Minister said that development of Kangra was the priority of the Government and it will cover every nook and corner of the district. The priority of every section will be considered and will form policies and scheme which will prove beneficial to all.
He stated that security is a big concern and to strengthen and monitor the law and order Govt is mulling to install CCTV Cameras at various places in the State. He added that CCTV cameras would be set up in governmental, non governmental institutions and private hotels for the safety of common people and tourists who visit the State for being world famous tourist destination. By doing this Himachal Pradesh will be the first State in the country where CCTV Cameras would be put on a massive scale for security of people, he added.
Virbhadra Singh said that Congress had played a pivotal role in over all development of Himachal Pradesh since its inception. He said that former Prime Ministers Pandit Jawahar Lal Nehru, Indira Gandhi, Rajiv Gandhi, UPA Chairperson Sonia Gandhi and Prime Minister Manmohan Singh had always protected the interests of the State from time to time. He said that rapid growth of the State was ensured by Central Government's ambitious schemes such as MNREGA, Sarv Shiksha Abhiyan, National Rural Health Mission, Bharat Nirman, Pradhanmantri Gram Sarak Yojna and Indira Awas Yojna etc.
Chief Minister said that Congress Government would open schools in far flung and difficult areas so that education could be provided to the children at their door steps. He said that previous BJP Government had closed 750 schools and it was during previous Congress Government regime that expansion of education sector was in a such large scale that Himachal Pradesh had surpassed Kerala in this field. He said that Congress Government had ensured unprecedented development in health, construction of roads, drinking and irrigation, horticulture and agriculture sectors under able guidance and cooperation of National leadership of Congress.
Virbhadra Singh said that the present Government would continue to strive for growth and advancement. He said that his Government had adopted the Election Manifesto of Congress Party as Policy Document and Government was committed to fulfil its all promises. He said that Government would give priority to overall development of all areas of the State.
Chief Minister said that added priority would be accorded for economic and industrial growth so as to provide employment and self employment to the youth. He said that efforts would also be made to harness the hydel power potential of the State.
Vidya Stokes, Irrigation and Public Health Minister said that efforts would be made for solving the drinking water supply problem besides providing irrigation facilities to farmers in a big way.
G.S. Bali, Transport Minister said that Kangra district had played significant role in formation of Congress Government and party is thankful to the people of Kangra district for their support. He said that Congress led Govt will ensure the development of the district and will touch every section and society with its policies.
Cabinet minister Sujan Singh Pathania said that due to earnest efforts of Virbhadra Singh many important offices and institutions were opened in Kangra district. Sudhir Sharma, Urban Development Minister welcomed the Chief Minister and said that he was thankful to people of Dharamshala segment who had expressed their faith in Congress Party. Neeraj Bharati, Chief Parliamentary Secretary and Kewal Singh Pathania, Vice Chairman, HRTC also spoke on the occasion.
Kuldeep Kumar, Jagjivan Pal, Sohan Lal, Ajay Mahajan, Yadvinder Goma, Kishori Lal, Mohan Lal Brakta, Inder Dutt Lakhanpal, Ravi Thakur, Khub Ram, Anirudh Singh, Sanjay Rattan, Bamber Thakur, MLAs, Chander Kumar, former Minister, former MLAs and prominent people of the area were present on the occasion.