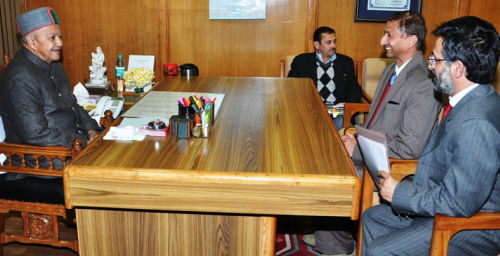 Chairman, Bhakra Beas Management Board (BBMB) A.B Aggarwal, met Chief Minister Virbhadra Singh at Shimla.
Various issues pertaining to supply of water to the State from BBMB system, land transfer and construction of bridges by BBMB were discussed during the meeting.
Chief Minister asked the BBMB authority to expedite the construction of motorable bridges at Dhawal village to connect NH-21 over Sutlej River and second bridge at Manglah village, in Sundernagar Tehsil of Mandi district. He also said that BBMB should ensure adequate supply of water for irrigation and drinking facilities to Himachal Pradesh from its various sources.
A.B Aggarwal apprised the Chief Minister that Rs. 17.61 crore have been approved for Dhawal bridge and Rs. 2.30 crore for Manglah bridge by the BBMB. He assured that all possible assistance would be provided to the State in future by the BBMB.
SKBS Negi, Principal Secretary, Personnel, MPP & Power and Ranveer Jalta, Special Secretary, BBMB were also present in the meeting.