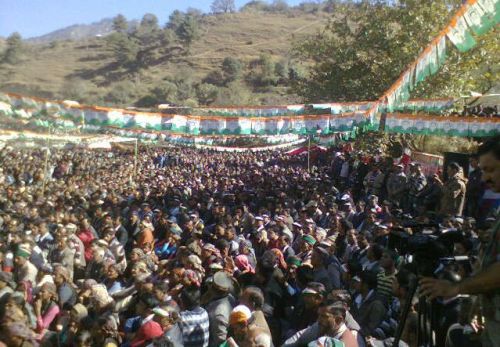 So, the countdown has finally begun. With only two days to go until the polling day, both the BJP and the Congress are busy in holding rallies and convincing people to vote in their favor. Both the parties are trying their level best to gain more support in their fortresses and win back their stronghold constituencies that they lost to their opponents in the previous elections. Jubbal-Kotkhai is one such seat that Congress would like to win back from the BJP. While Thakur Ram Lal has the healthiest record of winning from this seat, Rohit Thakur repeated the success in 2003. However, in the last election, he lost to BJP candidate Narinder Bragta.
Now, as part of the battle of pride, Congress held a rally at Gumma-Kotkhai which was headed by the HPCC president Virbhadra Singh. While addressing thousands of Congress supporters of Jubbal, Kotkhai, Nawar and Baggi region, Mr. Singh emphasized on the ineffectiveness of anti hail guns and blamed the BJP for the poor condition of roads in the region. Virbhadra Singh simply sidelined Bragta's claims of doing development works in the region. He asserted that Narinder Bragta has been misleading the common people of Jubbal-Kothkhai to fulfill his own interests.
Moreover, Virbhadra Singh said that the BJP is taking credit for those works which were initiated in Congress's tenure. The BJP leaders have simply been busy in attending ribbon cutting ceremonies of projects which never belonged to them. He further requested people to vote in Rohit Thakur's favor since, according to him, he is a future leader and is capable enough of leading the development work in the state.