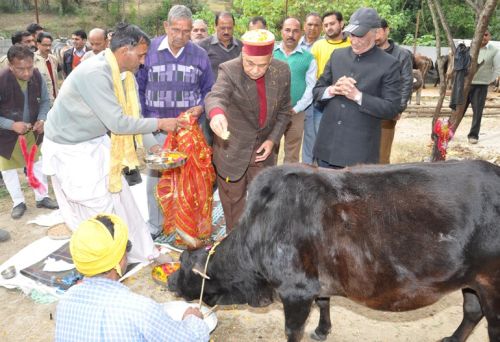 Chief Minister Prem Kumar Dhumal today visited Jamli Dham in district Hamirpur where he paid obeisance to the deity and served fodder to the cows in the 'gau sadan' to mark the Gopashtmi and concluding of the week long religious sermon organized by Narayan Sewa Sansthan at Jamli Dham in district Hamirpur today.
Speaking on the occasion, Dhumal said that service towards the humanity gives peace and sense of satisfaction. He said that self introspection was the best way to evaluate short comings of any individual and realize to his follies and takes effective steps to rectify the same. He said that company of the intellectuals, saints and sages would save people from falling prey to vices. He expressed concern over the degradation of the moral values as people, especially the young ones, were showing their reluctance towards discharging their responsibilities towards their elders, especially parents at the fag end their lives.
Chief Minister felicitated the people of the State on Gopashtmi festival and said that it was appropriate time to renew the pledge to save cow to uphold the rich traditions of the nation. He laid emphasis upon incorporating the devotional teachings into the day to day life of every individual to make their lives successful. He lauded the initiatives taken by the Narayan Sewa Sansthan for taking lead in saving the cow and providing shelter to the astrayed domestic animals besides motivating others to actively involve themselves in the service. He also made an appeal to the people of the area to be part of the pious service towards strayed animals.
Earlier Chief Minister also visited Gau Sadan at Baleut where he participated in the 'Pooran Ahuti' and fed cows with fodder to mark the Gopashtmi. He also distributed buckets etc. amongst the local women engaged in cow rearing.
Rasil Singh Mankotia, President of Narayan Sewa Sansthan, welcomed the Chief Minister and thanked for his patronage towards the gau sadan which had provided shelter to large number of abandoned cows. He detailed the activities of the Sansthan and said that the complex was coming up as an impressive devotional centre wherein large numbers of devotees were contributing significantly. He said that six lakh herbal plants had been planted by the institute in the periphery of the complex. He said that herbal produce was also being purchased from the local farmers with a view to produce herbal products and also generates self employment to local farmers.
M.C. Parmar, CMD, Ex-Servicemen Welfare Corporation, Pyare Lal Sharma, Chairman, APMC, Narender Atri, President, State BJYM, Vijay Pal Soharu, Membe, HP State Media Advisory Committee, Veena Sharma, Member, State BJP Executive Committee, prominent people of the area were prominent among others present on the occasion.