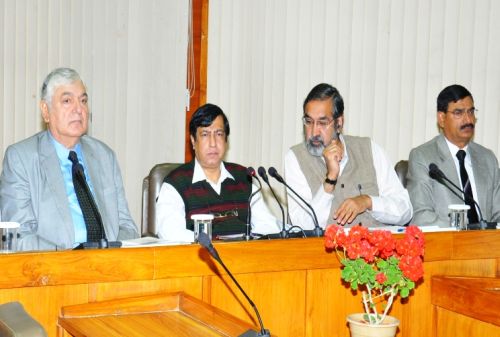 In the Disaster Scenario for Disaster Risk Management – An National Disaster Management Authority, (NDMA) Multi-State Preparedness workshop, in Shimla today, Chief Secretary S. Roy has stressed the need for creating an awareness about earthquake resistant construction and said that sensitization towards it was need of the hour to mitigate disasters.
Chief Secretary said that as the State was highly vulnerable to various hazards, the present level of safety, to mitigate a big earthquake has to be re-assessed. He said that Himachal Pradesh fall in seismic zone IV and V which points towards very high damage risk zone and lack of preparedness would have serious consequences if major earthquake revisits this part of Himalayan region. He said that according to scientific knowledge available with us, possibility of strong earthquake was in the corner.
Stressing for the need to enforce strict bye-laws for undertaking construction works, Chief Secretary said that the RCC and framed structures coming up in the state should be properly designed and buildings constructed with the technical assistance and supervision of experts and qualified engineers.
Remembering colonial days, when the buildings were constructed with 'Dhajji walls and Kath Kuhniya technique' he said that such earthquake resistant constructions were no longer replicated. The colonial cities today had turned into concrete houses without any technical measures and it is here, where the state agencies have a crucial role to play.
He said that it was obvious that an earthquake of as much as magnitude 8, is likely to struck Himalayan region in near future as the Main Boundary Thrust (MBT) of Eurasian and Indian tectonic plate passes through Himachal Pradesh which may result in exposing heavy loss to life and property during such a disaster.
He said that the people of the state had to be prepared mentally totackle such situation. During disasters, the life-line as the communication system, rail, roads, bridges, buildings, power are directly affected therefore possibility of panic all around can't be ignored. He said that earthquake triggers series of other disasters as fire, landslides, disruption of power lines, communication towers etc at the same time, hence, the Department of Information and Public Relations and Education has a very important role to play in reducing the level of panic. The education department should incorporate Disaster Management subject in their school curriculum.
Chief Secretary said that we require more shadow Disaster Management Teams, mock drills etc. to prepare the people to the vulnerability of such a disaster. People are required to be prepared mentally and physically for such an eventuality. Besides, the need for setting up an island relief and response teams in far flung areas mainly in villages as a measure of local arrangement to fight disaster. Technology needs to reach the farthest corner and the people needed to be made more aware of their personal safety.
He said that all the life line buildings and structures as Schools, Hospitals, Important public offices, Police stations, prisons, Fire stations, reservoirs, cross country pipelines, main bridges are needed to be identified all over the State so that a list of such structures and buildings could be prepared which could help in adopting possible measures of reducing vulnerability in these areas.
Chief Secretary stressed for such frequent workshops and also for more mock drills both in urban and rural areas so as to deal with disasters in a more holistic way. He thanked the members of NDMA and IIT Madras, for providing valuable information on different aspects of Disasters in the workshop.
Earlier, H.K. Gupta and J.K. Sinha, Members NDMA, New Delhi, Prof. C.VR. Murty, from IIT Madras, gave their power point presentations on aims and objectives of the workshop and on Incident Response System (IRS). Brig (Retd) Dr. B.K. Khanna from NDMA also gave his presentation on the occasion. Deepak Sanan, Additional Chief Secretary (Revenue), I.D. Bhandari, Director General of Police, Deputy Commissioners, officers of State Disaster Management Authority, (SDMA) and other senior officers from all over the State were present on the occasion.