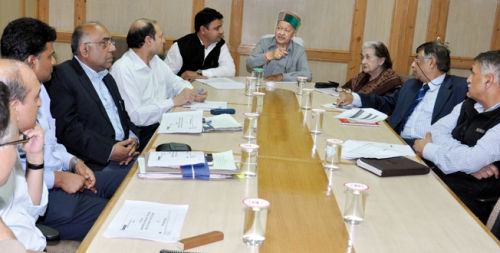 In a high level meeting of H.P Infrastructure Development Board (HPIBD), Chief Minister Virbhadra Singh revealed that a Ropeway between ISBT Tutikandi to the Lift and from Lift to near Rani Jhanshi Park would be constructed under Public Private Partnership (PPP) mode on Built, Operate and Transfer (BoT) with a view to decongest the traffic rush in Shimla town and to facilitate the tourists and other commuters.
Virbhadra Singh said that the initial cost of the three kilometres long project would be around Rs. 250 crore with boarding stations at Tutikandi and Lift and parking facility for 500 vehicles each. He said that the carrying capacity of this ropeway would be around 1500 to 2000 persons, per hour each way, with total travel time of about ten minutes or so. He said that both the terminals at Tutikandi and Lift would have restaurant, waiting hall and other basic amenities.
Chief Minister said that besides saving travel time it would help in reducing pollution level. Besides, it would be a joy ride for tourists and help giving fillip to tourism in Shimla.
Virbhadra Singh also gave nod to construct another Himani Chamunda ropeway project in district Kangra. He said that this ropeway would help the pilgrims to visit the famous Himani Chamunda temple which was not connected with road till yet. He said that this ropeway would be constructed with a cost of around Rs. 200 crores and would be of six kms length with a carrying capacity of about 1000-1200 persons per hour each way. He said that its boarding terminal would be near Chamunda Temple besides there would be a mid station and finally to the destination near Himani Chamunda Temple. He said that the one side travel time would be around 20 minutes or so.
Chief Minister said that waiting hall and parking facilities for about 500 vehicles besides other basic amenities would be provided at Chamunda terminal, while restaurant, Children Park and cottages with overnight accommodation would be provided in mid terminal whereas open air restaurant would be constructed at upper terminal with all basic amenities.
A presentation on 'Material Ropeway Project' from Kotgarh, Baghi, Kotkhai, Theog, Gumma, Yashwant Nagar, Sainj up till Parwanoo was also given by the consultants M/s Usha Breco Limited for undertaking the feasibility study to transport the agriculture and horticulture produce from district Shimla to Parwanoo as a pilot project.
Chief Minister said that since the orchadists from Himachal Pradesh, particularly Shimla district had to depend on roads for transportation of apples and face hardship due to traffic congestion, availability of trucks and weather conditions and hence the alternate mode of transportation in form of ropeways would be a better source for transporting the produce. He said that before going in for this alternate ropeway transport systems, all important aspects like sufficient place for de-boarding of the produce, storing capacity, marketing yard and adequate parking facilities etc. should be taken into consideration and be integrated with this project.
Virbhadra Singh stressed that all the services should be made available to the farmers and growers at the terminal point at Parwanoo. He said that the project would cost about Rs. 250 -300 crores which would be developed in the private sector under PPP mode.
Chief Minister directed the H.P. Infrastructure Development Board to work on priority on all the above projects so that they could be awarded as soon as possible. He said that apart from this the other modern mode of transport system for Shimla town i.e. Personal Rapid Transport (PRT) System would be developed to decongest the busy circular road and peripheries of Shimla town.
Irrigation & Public Health and Horticulture Minister Vidya Stokes said that Material Ropeway Project in Shimla district would help in reduction in emission of green house gases leading to clean environment and limited road damage and accidents. She said that the biggest benefit of this project would be reduction in transportation cost upto one third of the existing cost.
Urban Development and Housing Minister Sudhir Sharma hailed the decision of Chief Minister of going into alternate mode of transport system in the State. He said that both ropeways in Shimla town and Himani Chamunda in Kangra district would go a long way to promote the tourism and would facilitate the pilgrims, tourists and local commuters. He said that apart from saving travel time these pollution free mode of transport system would provide cheaper alternate source of transport. He thanked the Chief Minister for approving Himani Chamunda ropeway as there was no road facility to reach there.
Chief Secretary S. Roy, Additional Chief Secretary Horticulture Vineet Chaudhary, Principal Secretary PWD Narender Chauhan, Principal Secretary Finance Dr. Shrikant Baldi, Principal Secretary Revenue Tarun Shridhar, Secretary Urban Development K. Sanjay Murthi, Commissioner Municipal Corporation Shimla Amarjeet Singh, General Manager H.P. Infrastructure Development Board Anil Kapil, Additional District Magistrate Shimla D.K. Rattan and other officers were also present in the meeting.