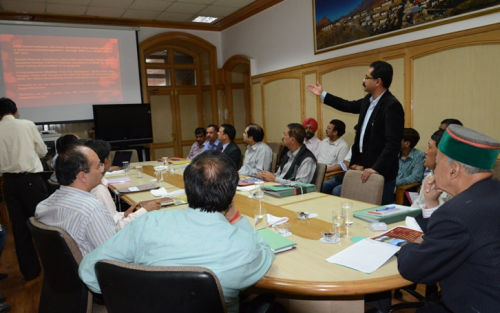 In the review meeting of Board of Directors meeting of Himachal Pradesh Tourism Development Corporation and Tourism and Civil Aviation Department here in Shimla, Chief Minister Virbhadra Singh revealed that the State Tourism Policy of 2005 is being reviewed with technical assistance from the World Bank to give more emphasis to Sustainable Tourism development in the State. He said that given the prospective growth of tourism in Lahaul & Spiti and Kinnaur, a perspective tourism development plan shall be prepared for the districts with the technical assistance of the World Bank.
He said that Wi-Fi system would be provided in entire Keylong region so that tribal region of the State could be provided communication connectivity throughout the year. He said that Spiti region would also be provided with Wi-Fi connectivity.
Virbhadra Singh on the occasion launched the Himachal Tourism Online Information System for collection of tourist statistics on the occasion. He also launched SMS based software which would help tourists to send their queries, suggestions and complaints instantly to the Tourism Department by sending an SMS.
Chief Minister stressed on promotion of tourism in a sustainable manner in the state. He said that tourism department has started the study of Dharamshala-Mcleodganj area so that tourism activities could be developed here on a sustainable basis. He said that Master Plan and Mobility Plan for Chintpurni, Shri Naina Devi Ji and Kangra town would also be prepared soon.
Virbhadra Singh said that tourism was a major economic activity of the State and sincere efforts are being made to harness the potential of those tourist places which have remained unexplored so far. He said that efforts should be made to create new destinations. He said that proper infrastructural facilities were being made available at all tourist destinations of the State. He said that State Government would be providing training to 1000 youths as tourist guides under the 'Capacity Building for the Service Provider' Scheme while 3900 youths were being provided training in driving skill under 'Hunar Se Rozgar Tak' scheme through selected seven ITIs.
Chief Minister said that Himachal Pradesh had great potential for water sports and efforts were being made to set up House Boats and Cruises in the Maharana Pratap Sagar and Gobind Sagar reservoir of the State. He said that a mini water amusement park would be set up at Sadhupul in district Solan. He said that State Government would encourage opening of new hotels and tourist facilities in those backward panchayats of the State which had vast tourism potential.
Virbhadra Singh welcomed the new Non–Official Members on the Board of Directors of Tourism Corporation. He directed the officials to renovate Himachal Bhawan, New Delhi at the earliest. He directed HPTDC to explore possibility of opening more camping facilities in its properties given their eco-friendly operations and popularity amongst the tourists. He said that all modern facilities including toilets should be provided in these tents. He said that best facilities and services should be made available in all units of the Corporation and efforts should be made to ensure round the year occupancies in all hotels of the Corporation. Chief Minister said that possibilities would be explored to open a wayside amenity on Parwanoo-Chandigarh bypass for which the District Administration may identify adequate land.
Subhasish Panda, Director, Tourism and Managing Director of HPTDC while welcoming the Chief Minister detailed about the activities of Tourism Department as well as Corporation. He said that online tourist statistics software would provide district-wise information of those tourists who check into the hotels. This data would be handy in future planning and framing suitable policy for sustainable development of the tourism alongwith disaster management. SMS based software will help the tourists on tour in Himachal in sending queries, complaints and suggestions through SMS on number 51969 by writing 'hp tour' and message. He said that Tourism Corporation had taken various initiatives for marketing its properties.
Panda said that the occupancy of HPTDC hotel units from April to June 2013 was 62.26 percent and the Corporation earned revenue of Rs. 2807.18 lakh and incurred an expenditure of Rs. 1997.80 lacs for this period. The Corporation earned an operational profit of Rs. 809.38 lacs and net profit comes to Rs. 742.55 lacs.
Non Official Members of BoD Surinder Sethi, Varinder Dharmani, Harender Sen, Gopal Krishan Mohant, Rupesh Kanwal, Amarjeet Singh, Chief Secretary S.Roy, Advisor to the Chief Minister T.G. Negi, Principal Secretary to Chief Minister, V.C. Pharka, Secretary Finance Maneesh Garg and other senior officers of the Department of Tourism & Civil Aviation were present on the occasion.