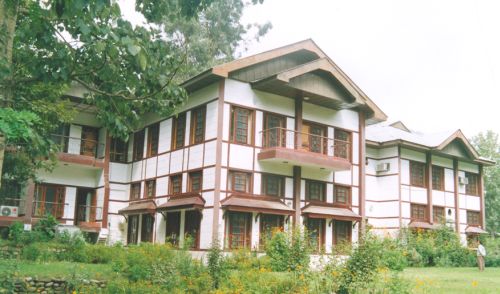 If you are looking for a tranquil place to get rid of the hustle and bustle of cities for a while, HPTDC's hotel Chanshal in Rohru is the right place for you to visit. The hotel is located by the side of Rohru – a small town in Shimla district in the Indian state of Himachal Pradesh. The hotel has been named after the Chanshal pass (180 Km from Shimla and links Dodra Kwar and Chirgaon), which is at 4520m height from the sea level. The vicinity around the hotel is all about scenic splendor in the lap of Mother Nature that will not only fascinate you like anything but will put all your fatigue off. Located next to the circuit house on Hatkoti-Rohru road, the hotel perfectly blends traditional façade with the best of modern facilities, added with unmatchable natural beauty that simply make this place a heaven on earth for tourists.
To be there
Hotel Chanshal is 120km from Shimla and is connected with regular private and govt. buses or you can book a Taxi from Shimla to reach this amazing place. The nearest Railway station and Airport to Hotel Chanshal is at Shimla, which is 121 km and 148 km respectively.
What makes it so special?
Well, the next thing you might be thinking is what makes this place so special? And yes, however, if you have ever imagined nature at its best, Hotel Chanshal will surely be one of the places to be mentioned. A view of the snow covered mountain peaks on the bank of river Pabber, the cool and fresh breeze blowing from cedar trees blended with fragrance from apple gardens makes you feel like breathing in heaven. The overall greenery around you and cool wind on your face will make every moment spent here memorable.
What does it offer?
If you are all worried about the amenities offered at the hotel, let me tell you what does it offers:
All the rooms of the hotel are spacious, airy, well furnished with attached bath and running hot & cold water
For the entertainment, all the rooms have satellite Televisions
Hotel provides you parking facility inside, while taxi is provided on demand.
Room service, Dry-cleaning arranged
Restaurant, Sprawling lawn.
Beautiful places in the vicinity
While at the Chanshal Hotel, the nearby attractions that you can visit include:
Shikhru Devta Temple: The beautiful temple is in the middle of the town and is held in high veneration by devotees. Every year, a big fare is organized during the month of April.
Hatkoti Mata Temple: Situated on the bank of River Pabbar, this temple is merely 10km away from Rohru town and is, again, a beautifully crafted antique temple that you would surely love to visit.
Chirgaon: Scenically enchanting, Chirgaon is just 15 km from Rohru and is famous for a trout hatchery. This town also provides a base for trekkers who want to trek Dodra-Kwar, the Sangla valley and to Sarahan via Tacklech and to Nichar.
Chanshal pass: It remains open from the month of May to October and is really a place to visit. The snow-clad peaks near Chanshal pass rise high on the bank of Pabbar river, the Chanshal pass at 4520 m has some excellent ski slopes which can, if developed, add more to tourist attractions in the area.
Dodra-Kwar: The Dodra and Kwar are two more jewels in the natural beauty but woefully both villages aren't connected by road as of now. You can find numerous flowers and herbals, dense cedar trees, amazing waterfalls, fast flowing streams and much more that take the natural beauty to next level. On the top of this, villages and temples here are perfect embodiments of high-class local woodwork.
Apart from these other nearby fascinations you can visit is a 45 km trek from Tikri to Kwar is via Larot, Chanshal, Gajyani-Thach, Kalapani, Dodra and Gaon Pujari, then over the Rupin stream at Gusangu, before Kwar.
Adventure
This area is still untouched and there remains lot more incomplete before converting this place into a paradise for the tourists. The Chanshal valley has a huge potential to be developed for ski sports, which can extent from 2 km to 12 km. Tourist also can enjoy water sport in Pabbar river.
Tariff at Hotel Chanshal
Chanshal Suite A/C (DBR)………….1500/
DBR Deluxe A/C …………………….1400/
DBR Semi Deluxe …………………..1300/
DBR Regular ………………………..1100
Dormitory……………………………150/ per bed