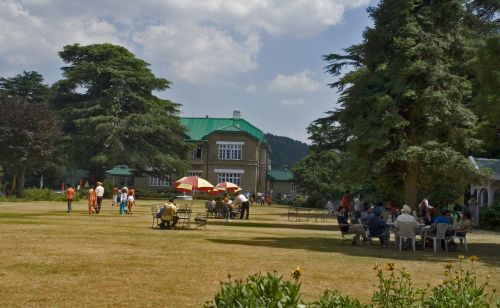 Chail Palace is one of the most popular heritage hotels in Himachal Pradesh. Built in 1891 by the former maharaja of Patiala, Bhupinder Singh, as his summer capital after being expelled from Shimla, the then summer capital of British India, Chail Palace greets you with its majestic glory. Encircled with chir pine and gigantic deodars, the hotel has a truly regal setting with spectacular views of the vicinity. Shimla and Kasauli can also be viewed at night from here.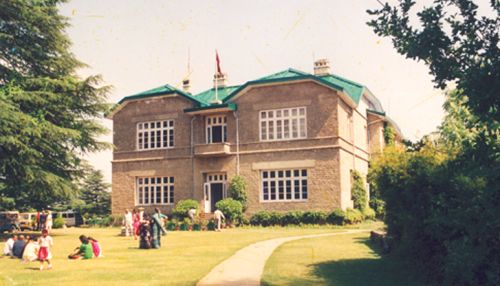 Located 2226 meters above the sea level, the Chail palace, a luxurious mansion that once belonged to the Royal family of Patiala, is open for everyone who wants to explore this majestic hill station. The palace was handed over to the Himachal Pradesh government in 1972 that runs it now as a heritage hotel. It consists of charming cottages, delightful log huts, thick forests and quiet walks. In addition, there is a 'lovers hill', the palace has an orchard of its own, lush green lawns, badminton and lawn tennis courts, billiards and even a children's park.
To be there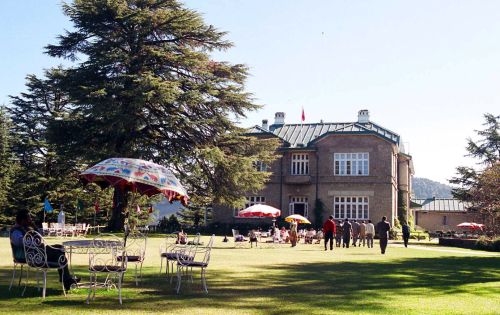 Chail is located at a distance of 46km from Shimla, 86km from Kalka and roughly 382km from national capital, Delhi. In order to reach Chail, one can board a train from Kalka or use the national highway 22 to reach Kandaghat wherefrom Chail Palace is 90 min run by road. However, if one wants to explore the scenic splendor from Kalka to Kandaghat, the journey by toy train is the best as it passes through the thickly forested tracks, hairpin bends and long tunnels, thus making your journey all the more enjoyable and unforgettable. The nearest airport is at Jubbarhatti, adjacent to Shimla, at a distance of 68km and one can reach Chail via Shimla.
What makes it so special?
Well, the Chail is a scenic splendor and Chail Palace has a historic importance. From the charming cottages to delightful huts, elegant lawns, badminton and lawn tennis court, billiards, thick forests and even a children's park, the majestic hill station of Chail offers it all. On the top of this, there are good sightseeing places including the world's highest cricket pitch, polo ground and a small wild life sanctuary.
What does it offer?
Mentioned here are the amenities that Hotel Chail Palace offers to its visitors.
 During May-June and 23rd December to 2nd January the rooms can optionally be sold on MAP or CP basis (Veg. Food).
 Palace's suites, rooms and cottages are sumptuously furnished with ornate and antique furniture. Rooms have wall-to-wall carpeting with fireplace.
 All the rooms are airy, spacious, well furnished with attached baths and running hot & cold water.
 For entertainment, all the rooms have Satellite Television
 Room service, Laundry and Dry Cleaning facility
 Firewood or room heaters provided
 There is also a Gift shop
 Parking within premises, Taxi can be hired on demand. Doctor on call.
 Hotel also offers safe deposit facility
 Bar & Restaurant serving Indian, Chinese, Continental and Himachali cuisine
 Conference facility for 70 person.
 Children's Park, Billiards, Lawn Tennis.
 MasterCard / Visa / American Express Credit Cards accepted
 Ayurvedic Rejuvenation Therapies
 HPTDC runs Open air Cafe at Palace.
Main attractions in the vicinity
Sidh Baba Ka Mandir: At a distance of one and half kilometer from the palace is a temple of a saint, built by Maharaja Bhupinder Singh. This was the place originally where the Palace was to be built initially. However, the Sidh – saintly person – appeared before the Maharaja in dream and declared that this was the place where he meditated until he was taken by the earth and he don't want his peace to be disturbed. Therefore, Maharaja changed the location and had this temple built on the place instead.
Cricket Ground: In order to build the ground, the top of the hill was leveled in 1893. The ground stands at 2444m and is the highest cricket pitch and polo ground in the world.
Wildlife Sanctuary: Three kilometer away from the Chail Palace is 'The Chail sanctuary' that has 'ghoral', 'kakkar', 'sambhar', red jungle fowl and 'khalij' and 'cheer' pheasants. Machan like sighting posts have been built at Khuruin.
Kufri: A tourist hotspot near Shimla has an enjoyable drive from Chail. The road passes through forests and small villages and leads to this small but popular hill station. The Nature Park here is a great attraction. A short trek leads to the Mahasu Peak with breathtaking views.
Sadhupul: Between Kandaghat and Chail is this village and bridge astride the Ashwani stream, which is a good picnic spot.
Adventure and Fishing: A dozen or so trek routes lead out of Chail. Trails lead up to the Choor Peak and to Shimla. You can fish in Giri River at Gaura, 29 km away.
Tariff in the hotel:
Maharaja Suite (2 DBRs)……………17000/-
Maharaja Suite (DBR)…………….. 9500/-
Rajkumar Room (DBR)……………….8500/-
Rajkumari Room (DBR)………………7500/-
Mehman Room (DBR)…………………6500/-
Dewan Room (DBR)………………….6000/-
Vazeer Room (DBR) ………………..4000/-
DBR Semi Deluxe…………………..3500/-
DBR (Himneel Block)……………….2400/-
Apart from above mentioned Rooms The Palace Chail also offered Cottages,
Rajgarh Cottage 16000/-
(4 DBRs with dining room, lounge and kitchen) Room can also be hired separately also @ 4000/-per day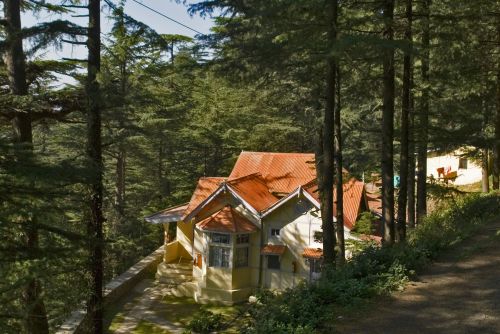 Wood Rose Cottage 9000/-
Full Cottage (Consisting of 3 DBRs with sitting room, dinning room and kitchen)
Monal Cottage 7500/-
Full Cottage (Consisting of 2 DBR with sitting room, dining room and kitchen)
Log Hut Deluxe 3000/-
Log Hut Regular 2200/-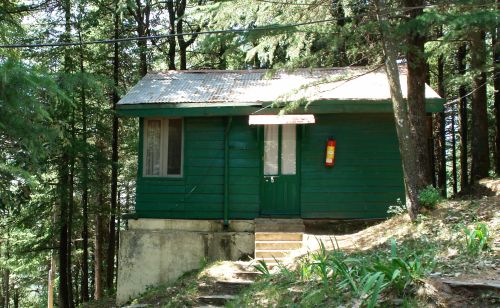 Dormitory (Himneel Block) 150/- each bed