The Himachal Pradesh Government has selected Chanshal in Shimla district Bir Billing in Kangra district and Janjehli in Mandi district to develop under the new scheme 'Nai Raahein Nai Manzilein' from tourism point of view.
The Chief Minister, in a meeting with top officers, said the State Government has made a budget provision of Rs. 50 crore. He said that community hall at Markanda temple and Ambica Mata Temple whereas solar lighting system would be installed at Janjehii, Shattadhar, Kuthah, Shikari Mata Temple etc. with an expenditure of about Rs. 2.70 crore. He said that temporary tents, promoting adventure tourism, constructing Jungle tracking paths around Janjehli, Thunag, Shikari Devi, Puda Kedar, Tungasi Top, Thachi, etc. would also be constructed for promoting tourism activities in the area.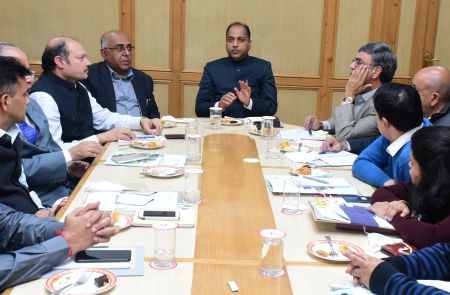 Jai Ram Thakur said that 40 new trekking routes would also be developed in Janjehli circuit to facilitate tourists. He said that 12 forest rest houses/ inspection huts would be upgraded for comfortable stay of the tourists. He said that total amount of Rs. 16.70 crore would be spent on developing the area as attraction for tourists. In addition, tourist culture centre has been awarded under Asian Development Bank funding for Rs. 25.17 crore, he added.
The Chief Minister said that Chanshal area in Shimla district would also be developed under the new scheme with the estimated cost of Rs. 15.12 crore. He said that the area has immense potential for adventure sports, skiing and camping. He said that Ministry of Road and Surface Transport, Government of India has appointed M/s Mckinsey to prepare report for development of Chanshal area as Tourist Hub.

Jai Ram Thakur said that Bir Billing in Kangra district would also be developed as tourist destination under 'Nai Raahein Nai Manzilein' Scheme by spending Rs. 14.62 crore. He said that under 'Swadesh Darshan' Scheme of Union Government, a paragliding institute was being set up at Bir Billing with an estimated cost of Rs. 8.07 crore.
Chief Minister said the State Government was committed to set up maximum number of ropeways in the State to facilitate the tourists and local people. He said that the Government has decided to provide several concessions including waiving off annual license fee for the first seven years to those entrepreneurs who are interested to invest in ropeways projects. He said that this includes
He said that Palchan to Rohtang ropeway would be completed by the year 2022 whereas Adi Himani to Chamunda and Bhunter to Bijli Mahadev ropeways would be taken soon.
The Chief Minister said that several manmade reservoirs such as Chamera, Pong Dam, Govindsagar, Tatapani, Larji and Pandoh have immense potential for being developed as major tourists attractions for adventure and water sports. He said that Govindsagar Lake would be developed for water sports, shikara, boating, house boat, sea plane and other recreational activities. He said that the State Youth Services and Sports Department would offer these activities on PPP mode. He said that similarly Pong Dam besides being a favourite destination for bird watchers would be developed as an attraction for water sports.
The State Government decided to take up the matter for allowing water sports and recreational activities in Pandoh dam with BBMB. Larji Dam would also be developed as tourist attraction by creating necessary infrastructure to facilitate the tourists.
Chief Secretary Vineet Chawdhry, Additional Chief Secretary cum Principal Secretary to Chief Minister Dr. Shrikant Baldi, Additional Chief Secretary Anil Kumar Khachi, Tarun Kapoor, Ram Subhag Singh Director, Energy Manasi Sahay, Director Tourism Rakesh Kanwar, Principal Chief Conservator of Forests Ajay Kumar, Managing Director, H.P. State Electricity Board Ltd. Jai Parkash Kalta were present on the occasion among others.