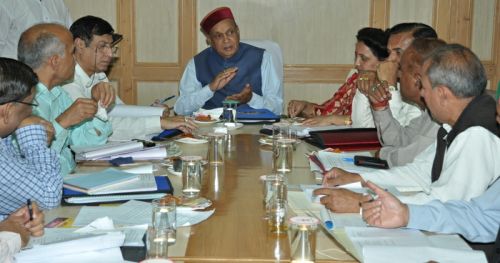 Chief Minister Prem Kumar Dhumal has lauded the role of employees in the development and implementation of policies and programmes of the Government and added that his government endeavour had always remained to maintain cordial relations with them. He said that their genuine problems had been solved on priority basis. He said that financial benefits worth Rs. 6500 crore had been given to its employees during past four years. Prem Kumar Dhumal was addressing the Himachal Pradesh Government/Semi Government Drivers and Cleaner's Association function at Ghumarwin in district Bilaspur today.
Prof. Dhumal said that 610 posts of drivers had been created during past four years and assured that need based vacancies would be created for all categories in future as well. He said that part time workers remuneration had also been enhanced substantially and those completing 10 years on March 31, 2012, had been ordered to be made as daily wagers and daily wagers completing eight years on 31st March, 2012 have been regularised. He said that Rs. 10.75 crore had been provided for providing residential facilities. He said that ex-gratia grant on death of the employee had been increased from Rs. 35,000 to Rs. 50 thousand, besides increasing TA and DA rates. He said that for the first time State Government had made permission to give educational loans upto Rs. 75,000 on very low rate of interest.
Chief Minister said that his Government had given interim relief to its employees ahead of implementation of the Pay Commission recommendations. He said that dearness allowance was also simultaneously released to employees and pensioners, fixed medical allowance had been enhanced from Rs. 100 to Rs. 250 per month. He said that residential facilities for employees were also being created in tribal and difficult areas. He said that scope of National Health Insurance Scheme had been widened. He said that from this year all those covered under MNREGA engaged in construction work, single women and petty traders had also been brought under the fold of National Health Insurance Scheme. He said that Seer Khad channelization project was in progress and would be completed on priority.
Chief Minister said that on coming to power for the second time in year 2007, the first meeting addressed by him was of the employees. He said that common man was focal point of all the policies and programmes of the State Government. He said that Rs. 140 crore worth of subsidy was being given by the State Government for distribution of essential commodities to every ration card holder this year. He said that despite financial constraints the State Government had not allowed it to come in the way of development and social welfare activities.
Prof. Dhumal said that to ensure better transport facilities, State Government had endeavoured to strengthen the Himachal Road Transport Corporation and Grant to it had been increased from Rs. 43 crore to Rs. 97 crore in last four years since present Government took over. Besides Rs. 33 crore was given as arrear on equity and additionally Rs. 50 crore provided to meet all pending financial liabilities. He said that in all Rs. 210 crore financial grants had been given to the HRTC by the present Government. He said that HRTC was rendering yeoman service to the people in every nook and corner of the State.
Chief Minister reiterated his Government's resolve to cater to the needs of 'Kisaan-Baagwan', 'Mahila Varg', 'Uuva Varg', 'Mazdoor Varg' and 'Karamchari Varg' and worked for their socio-economic upliftment. He said that daily wage of workers had been increased from Rs. 75 to Rs. 130; social security pension of old age, widows, handicapped from Rs. 200 to Rs. 400 per month, by the Government.
Rikhi Ram Koundal, Deputy Speaker, HP Vidhan Sabha, welcomed the Chief Minister to Bilaspur district and thanked Chief Minister for benefitting every section of the society. He said that State Government was providing essential commodities at subsidised rates to every ration card holder in the State. He said that people of the State were fully satisfied with the performance of the State Government. He said that every Government employee had been contributing towards the development of the State.
Baldev Sharma, MLA, Nadaunta, said that the State Government had been generous towards genuine demands of all sections of the society. He said that it was during BJP regime due honour had been extended to the drivers who were providing valuable service to the State.
Shanti Swaroop, President, Himachal Pradesh Government Driver's and Cleaner's Association, extended a warm welcome to the Chief Minister and thanked him for sanctioning one special increment to the drivers completing 20 years of service He requested that dozer and roller drivers may also be given special increment. He requested for increasing washing allowance from Rs. 30 per month to Rs. 200 per month
N.R. Thakur, General Secretary, NGO Federation, thanked CM for providing financial benefits worth over Rs. 6500 crore to employees and pensioners, promoting thousands of employees and filling over 30 thousand posts in different departments during past four years. He said that financial benefits worth over Rs. 1400 crore were sanctioned during JCC Meeting alone. Ritesh Chauhan, DC, Santosh Patial, SP, B.T.Negi, Chief Engineer, PWD, other senior officers and prominent people of the district were present on the occasion.