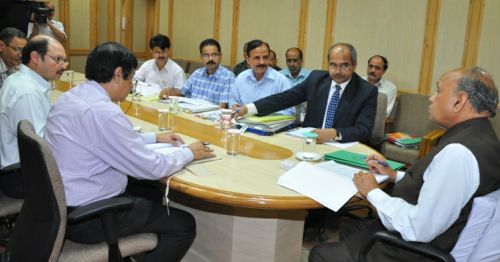 The Board of Directors of HP State Electronics Development Corporation in its 82nd meeting here today gave approval to release revised House Rent and Capital Allowance to the employees of the Corporation on the analogy of the State Government employees. Chief Minister Prem Kumar Dhumal presided over the meeting.
Chief Minister congratulated Management of the Corporation for earning profit regularly by diversifying its marketing activities to generate more income and adding more activities. He said that Electronics Development Corporation had successfully been preparing the results of the examinations conducted by HP Board of School Education and would be pursuing Himachal Pradesh University and Himachal Pradesh Technical University to make best use of the services of the Corporation for preparation of the results of different examinations being conducted by both of them which would further add to the income of the Corporation. He said that against the achievement of Rs. 38 crore turnover during preceding financial year target for current financial year had been fixed at Rs. 51 crore. He said that the Corporation had built its credibility in marketing quality computer hard ware, electronic equipments and medical equipments to its consumers. He said that the professional approach by the Management had yielded desired results and the Corporation had made its name in the commercial circle as well.
Prof. Dhumal said that the objective behind creating public sector undertakings was to generate spirit of competitiveness amongst fellow organizations so that best returns are ensured for the services delivered to the consumers. He said that Electronics Corporation had been the one which had always been exploring possibilities of diversifying its activities to generate more income and had emerged a source of inspiration to rest of the public sector undertakings. He underlined the need for updating marketing strategies prevalent in the global markets so that the name could travel beyond the limits of the State. He said that after sale service of the products marketed by the Corporation needed to be ensured which would help in building credibility amongst the consumers as also attract more consumers to buy products available with the Corporation.
Kamal Sharma, Managing Director of the Corporation, welcomed the Chief Minister and other members of the Board and conducted proceedings of the Meeting. Chief Secretary S.Roy, Dr. Srikant Baldi, Principal Secretary, Finance, P.C.Dhiman, Principal Secretary, IT, Subhashish Pandey, Special Secretary Finance, Sharab Negi, Additional Director of Industries, Rakesh Kapoor, Chief General Manager, BSNL, other senior officers attended the meeting.