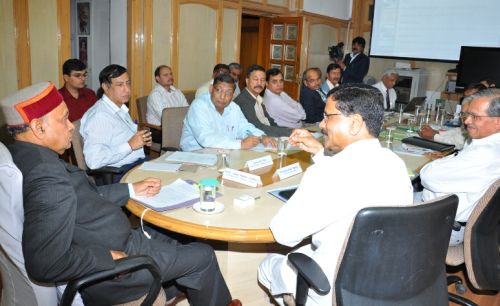 In the National Disaster Management Meeting organized on Multi-State Earthquake Disaster Scenario with visiting team headed by M.Shashidhar Reddy, Vice Chairman of National Disaster Management Authority, on preparedness of the State to meet any emergency resulting out of earthquake, Chief Minister Prem Kumar Dhumal said that State Government would be utilizing the platform of gram sabha meetings all over the State to create awareness amongst the masses in rural areas about preparedness and disaster management in earthquake like situation.
Chief Minister said that the State Government had prepared its Disaster Management Policy aimed at mitigating challenges posed by occurrence of earthquakes since Himachal Pradesh falls into seismic zone number IV and V, and motivates people of the State, especially in rural areas, to construct earthquake resistant buildings for residential and other purposes. He said that extents of intensity VI had been observed in five States of Jammu and Kashmir, Himachal Pradesh, Haryana, Uttrakhand and Uttar Pradesh and 11 of the 12 districts were in seismic zone. He said that periodic campaigns were being launched from time to time to create awareness amongst the masses and access their preparedness towards such emergency situations. He said that the National Disaster Management Authority will be undertaking a mock mega-state earthquake disaster exercise named as 'M8.0 Mandi, Earthquake Disaster Scenario', in the month of February, 2013, for hypothetical earthquake of magnitude 8 with its epicenter at Sundernagar town in Mandi district, replicating magnitude 8 Kangra Earthquake of 1905.
Prof. Dhumal said that the epicenter of hypothetical earthquake is located in a 'seismic gap' in Western Himalaya and several scientists expect this region to experience a large earthquake in future. He said that the exercise was likely to generate awareness amongst stakeholders of an earthquake of such a high magnitude covering a large number of States; to evaluate the response mechanism and functioning of various stakeholders to identify gaps; to facilitate preparation for response plans at various level and to understand direct and indirect consequences of the earthquake in affected area. He said that the State had already finalized site for location of Disaster Management Batallion at Kopra village in Nurpur of district Kangra where training facilities would be available for trainers for further training to the people to create preparedness for earthquake conditions. He said that the State had also set up State Centre for Climate Change and AGRISAT to monitor weather conditions through satellite. He said that nodal officers had been appointed at all required level and communication system being developed at a cost of Rs. 4.40 crore.
Chief Minister said that the State Government would extend all help to the National Disaster Management Authority in all its endeavours aimed at creating mass awareness and carrying mock drills for preparedness of masses to meet any emergency resulting out of earthquakes.
M. Shashidhar Reddy, Vice Chairman, NDMA, underlined the need for universal preparedness for earthquake keeping in view massive loss of life and property in high intensity earthquakes which occurred in different parts of the world. He said that mock drill had already been carried successfully in Delhi in 400 locations with participation of 15,000 people. He said that North Western Himalayan Range was extremely fragile and every precaution was required to be taken country wide. He said that NDMA would be undertaking similar exercise in Chandigarh and Shimla in February next year to sensitize people about the gravity of damage earthquake could cause to life and property.
S. Roy, Chief Secretary apprised about the preparations made by the State Government to meet any emergency resulting out of earthquake. He said that mass awareness campaigns would be a regular feature in the State on setting up of Disaster Management Battalion at Nurpur. He thanked Shri M. Shashidhar Reddy for the concern shown towards the State of Himachal Pradesh in launching mock drills.
Maj. Gen. (Retd.) R. K. Kaushal, Senior Specialist (Policies and Plan) NDMA, gave a detailed presentation over the preparations required to implement disaster management provisions in earthquake situations. Senior functionaries of the State Government and Members of NDMA interacted on different related aspects of Disaster Management Scenario.
P.Mitra, S.K.Dash, T.G.Negi, Additional Chief Secretaries, Prem Kumar, Principal Secretary, Food and Civil Supplies, Dr. P.C.Kapoor, Principal Secretary, Industries , Dr. Srikant Baldi, Principal Secretary Finance and Planning, Ajay Mittal, Principal Secretary to the Chief Minister, S.K.B.S.Negi, Principal Secretary, RD&PR, Dr. Ajay Bhandari, Secretary GAD, Dr. Nagin Nanda, Secretary, Environment, Science and Technology, S.C.Pal, Additional Secretary, Revenue, and other senior officers were present in the meeting.