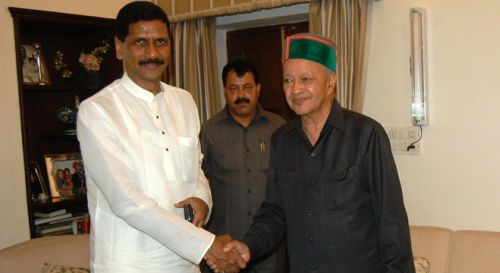 M. Shashidhar Reddy Vice-Chairman National Disaster Management Authority met Chief Minister Virbhadra Singh in New Delhi and offered all help and assistance to the State
Government for taking massive rehabilitation and relief works in the flood affected areas of the State.
Chief Minister said that State Government would reconstitute Disaster Management Authority in the State and added that experts from various fields, NGOs involved in environmental and disaster management would be actively associated with Disaster Management Authority in the State. He said that use of modern technology and expert advice would be given paramount importance while reconstructing the devastated infrastructure in the flood affected areas.
He said that Disaster Management Authorities in the district level would be made more active and proper training would be imparted to all the volunteers associated with the Disaster Management Authorities at the district level. He said that normal life in all the flood affected areas would be restored in one month period besides the entire reconstructions and rehabilitation operations would be completed within a year.