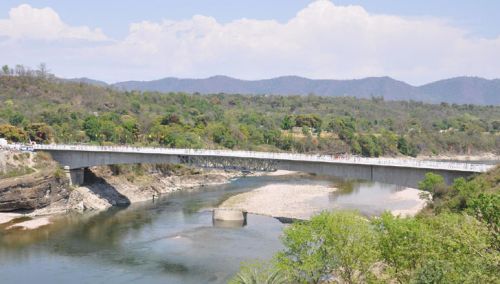 Chief Minister dedicated 200 metres long double lane Chamba-Pattan bridge on river Beas to the public in Dehra Sub-Division of district Kangra. This bridge was constructed at cost of Rs. 17.65 crore.
While addressing the public CM said that State Government was according priority to construction of roads in the State and strengthened the road network in rural and far-flung areas. He said that Himachal Pradesh was plastic free State and 112 kilometre roads were constructed by mixing plastic waste with bitumen which has proved successful.
Chief Minister said that Chamba-Pattan bridge had not only fulfilled the long pending demand of the people but has proved to be a new mile-stone of development in history of the State. He also expressed grief over the demise of 60 persons who died in boat mishap on 5th June, 1976 while crossing river Beas and prayed for peace of the departed souls.
Prof. Dhumal said that it was during the BJP regime that a provision of Rs. 18 crore had been made for this bridge whereas only 40 lakh was made available during period 1989-2007. He said that Rs. three crore Mini Secretariat building at Dehra would soon be dedicated to the people of the area.
Later, Chief Minister also dedicated 55 metre long bridge on Garli rivulet on Gopipur-Chamukha road constructed at a cost of Rs. 97 lakh. He said that 45 kilometre new roads, four bridges and other development works were undertaken in Jawalamukhi Vidhan Sabha Constituency and at present road projects worth Rs.35 crore were in progress.
Ramesh Dhawala, Food and Civil Supplies Minister, thanked the Chief Minister for dedicating Chamba-Pattan bridge in a record time. He said that the work on 15 roads amounting to Rs.35 crore were in progress in Changer area of the district, besides Rs. 20 crore were being spent handpumps in Badoli area.
Earlier, District BJP President, Ranjit Singh Pathania welcomed the Chief Minister on the occasion and thanked him for dedicating the Chamba-Pattan bridge. IPH Minister, Ravinder Singh Ravi, Social Justice and Empowerment Minister, Sarveen Chaudhary, MLA Balbir Chaudhary, Vice-Chairman Water Management Board, Praveen Sharma, Former MP and Vice-Chairman Marketing Board Kripal Parmar, Former MLA and Vice-Chairman Forest Corporation, Vikram Thakur, Chairperson, Zila Parishad, Shrestha Kaundal, senior officers and prominent people of the area were also present on the occasion.