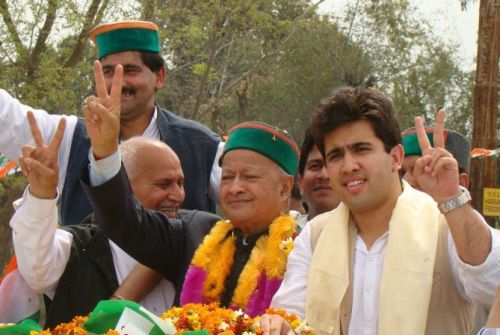 Angry with the allegations of corruption by Team Anna, Union Minister Virbhadra Singh has sought an unconditional apology from its member Arvind Kejriwal for "maligning" his name. Virbhadra Singh threatened with the legal action against Kejriwal, if he didn't apologies to him.
During latest Anna Rally on 25th March 27, 2012, Arvind Kejriwal had figured Virbhadra Singh's name in the list of 14 ministers against whom Team Anna has demanded registration of FIR and investigation into charges of corruption
Congress stalwart has strongly refuted the charge, and written a letter to Arvind Kejriwal, said "your knowledge is sketchy and founded on inexact information." Singh said the allegation as he read in the media reports against him is that he was filmed demanding bribe from an IAS officer which is "absolute and utter nonsense." Virbhadra Singh has challenged him to produce any such film before he demand any action against him.
Giving details, he said an FIR has already been registered against him in 2008 by the BJP government in Himachal Pradesh on the basis of an audio CD allegedly containing his voice from 1989. He added that
"The matter is subjudice and charges have not been framed and therefore to comment on this matter is not only premature but also prejudiced,"
Singh said he has filed a defamation suit against former Congress minister in the hill state Vijay Singh Mankotia, who released the audio CD.
Virbhadra said in his letter to Kejriwal
"I have learnt that you recently visited my constituency Mandi and perhaps have been fed these stories and half truths by my political opponents."
Veteran Congress leader has written that "I have had an outstanding and clean record in both the Centre and my state HP…. No one has ever levelled an allegation against me except for BJP government in HP led by Prem Kumar Dhumal."
Virbhadra Singh's political career is spanning more then 50 years and has served as Chief Minister of Himachal Pradesh for a record five times and was a state minister in the government of Indira Gandhi, before shifting to the State.