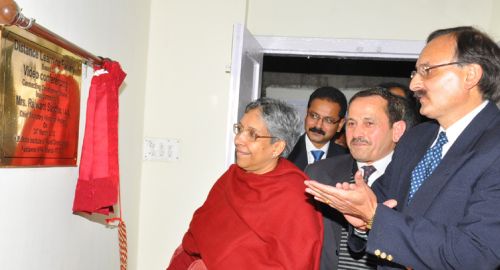 Chief Secretary Rajwant Sandhu inaugurated Video Conferencing based Distance Learning Facility at State Institute of Rural Development (SIRD) in Himachal Pradesh Institute of Public Administration (HIPA). With this, all the 77 Pnachayat Samitis at block level and two Panchayati Raj Training Institutes in the State has been connected with the Distance Learning Facility.
Speaking on the occasion, Rajwant Sandhu said that the State had made sustained efforts to achieve results in the fields of governance and development besides making incessant efforts for inclusive growth and sustainable development for the welfare of the people. She said that the recent census data reveals that the State had excelled in most of the socio-economic parameters in the Country and Planning Commission had also pointed out that the State had achieved reduction in the poverty as per criteria fixed by the Government of India by 10 percent. All this had been possible due to good governance and support of the people.
Chief Secretary said that with this facility, it would become easier to interact with the field level officers besides saving of time and money. She emphasised that all the departments should make optimum utilization of this facility not only for training purpose but also for the monitoring and review of different programmes.
She lauded the efforts of State Institute of Rural Development, HIPA, Information Technology and Rural Development Departments for establishing this new milestone in a joint venture.
Highlighting the details of video conferencing facility, SKBS Negi, Principal Secretary, Rural Development and Panchayati Raj said that second phase of this project was also being taken up with would provide connectivity to Zila Parishads, DRDA's and Pnacchayati Raj Training Institutes.
Earlier, Dinesh Malhotra, Director, HIPA while welcoming the Chief Secretary said that this facility was a milestone not only for SIRD but also for the State. He said that this facility will enable various departments to carry out their work and interacting with public representatives in a systematic way. Dr. R.N. Batta, Director, Rural Development and Panchayati Raj presented the vote of thanks.
Video conferencing was also organised to mark the occasion in which Block Development Officers, District Panchayat Officers of the State interacted with the senior officers of Panchayati Raj, Rural Development and IT Departments. Subhashish Panda, Director, IT, other senior officers of the concerned departments were also present on the occasion.