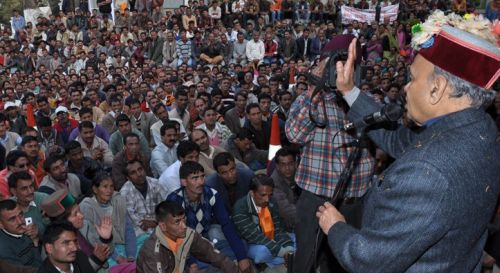 State Government would consider setting up of a Committee to form a policy and submit a comprehensive report to the Government for the part time water carriers in the State in which employees leaders would also be included. This was revealed by Prem Kumar Dhumal, Chief Minister, addressing part time water carriers who met him at his official residence Oakover, here today.
Chief Minister said that the recommendation of the Committee consisting of officers earlier to make its recommendations with regard to formulation of a comprehensive policy for the part time water carriers would not be implemented by the State Government instead the new Committee which would also include representatives from the employees union would be set up on priority and would be asked to submit its report and recommendations to the State Government within next three months. He said that the proposed Committee would frame a policy to protect the interests of part time water carriers by determining the period of their service to become whole timer and thereafter regular so that the State Government could accordingly move forward in protecting the interests of part time water carriers within the fixed time frame. He said that it would help water carriers in feeling secure with their job.
Prof. Dhumal said that the State Government would also examine providing of additional opportunities to the highly qualified part time water carriers in competing for higher posts in different departments. He said that efforts would also be made to remove pay anomalies of water carriers so that entire category was given equal honorarium. He said that extra care would be taken to safeguard the interests of those water carriers who are over age.
He said that the discriminatory attitude of the Union Government was major hindrance in meeting various committed liabilities. He said that it was disappointing that the Union Government had abolished tax share of the State Government and had earlier withdrawn the special industrial package three years ahead of its scheduled time. He said that there was a long list of matters in which Centre had been discriminating Himachal Pradesh. He said that that the State Government had not allowed paucity of funds to come in the way of development and welfare activities during past four years and uniform and balanced development of the entire state was being ensured.
Chief Minister assured the part time water carrier union members that no efforts would be left undone to provide relief to the part time workers. He said that it was common man's government at the helm of affairs in the State where all policies and programmes were focused upon them only.
Chief Minister was also presented a draft of Rs. 21,000 as contribution on behalf of the members of Part Time Water Carriers Union by its State President Shri Bhim Singh, towards Chief Minister's Relief Fund.
Surender Thakur, State President, NGO's Federation, supported the demands of the part time water carriers and said that it was during BJP regime that a policy was framed for part time water carriers and their honorarium was enhanced. Inder Thakur, a senior NGO leader also thanked the Chief Minister for increasing honorarium of the part time water carriers twice during its regime. Bhim Singh, State President, Part Time Water Carriers Association, welcomed the Chief Minister and thanked him for all the favours done to water carriers. He placed a demand charter on behalf of the Association before the Chief Minister and urged for remedial steps on priority.
Gobind Sharma, Hirda Ram, MLAs, Dr Ashok Kapahatia, Vice Chairman, Media Advisory Committee, Joginder Verma, Chief Advisor, NGOs Federation, Ghanshyam Sharma, Legal Advisor, State NGOs Federation, Jagat Ram, Superintendent of Police and other prominent leaders were present on the occasion.