Surely the Gods live here. This is no place for men. Rudyard Kipling once remarked about Lahul. Indeed this last wonderful and inhabitable area of Lahul has everything to attract and captivate outsiders. Its snow-clad mountains, massive glaciers, innumerable rivulets and legendary Chandra Bhaga River, ancient monasteries and its fresco paintings, fairs and festivals all are worth a study. During winters whole social life revolves around monasteries, when area becomes snowbound Rohtang closed and people could not visit their nearby villages. Among the winter events in the Gahar valley of Keylong the festival of Gochi or celebrating sons is a special traditional festival to celebrate jointly the births of all the male children born in the village during the preceding year.
Keylong vazir is the principal deity of this festival. A day before the festival, a male member of the Kukujee family dressed in gown and cap begins worship of the deity with bow and arrow and called Labdagpa a village priest. Afterwards he visits all houses where a son was born during the preceding year. Here they are all lavishly served with salted tea, meat, chhang arak, and sattu. One of the boy of village is garlanded ceremonially and called Laopa. ALL Gochi families contribute a straw filled goatskin each which is placed beneath a sacred tree.
The following noon boisterous precisionists wearing long woolen coats and decked with dried marigold flowers with stew shoes move out from each Gochi houses carrying burning sticks of pencil cedar singing dancing to the beat of the drums. Another procession of women's beautifully adorned with jewellery carrying goblets of chhang. Mothers carry the newly born babies tied tightly on their backs. After reaching the site of deity all the goatskins are kept in a row and village priest shoots 12 arrows at them. It is believed that if arrows find mark on the right side of the goatskin then right side would have more sons. If they mark on the left side then that side has more sons in the ensuing year. And ff arrow misses the mark then it is believed that no sons will be born in the village. After finishing this ceremony all get start dancing, singing around a cedar bonfire. During nights, cups are never allowed to be empty as that would be inauspicious. Men and women dance together to songs relating to Lahulian history, folklore or glories of lamaistic worship.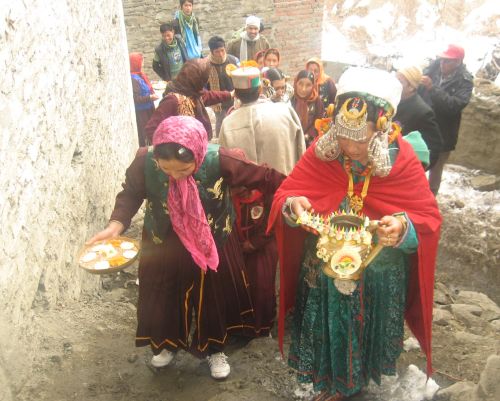 Mohan Lal Relingpa