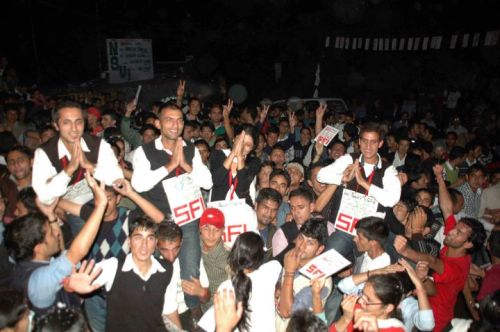 CPI (M) has termed a private university as a big scam in Himachal and demanded a CBI probe into it. After the stark revelations made by a TV news channel through a sting operation carried out in Rajasthan, CPI (M) has sent a open letter to UGC and demanded a fair investigation in the matter. In a letter Party had alleged that the state government has been apprised several times but it has been a facilitator in this garb with some ministers being sleeping partners in various deals of the private universities.
CPI (M) has given few claims to initiate the inquiry into the matter.
1. A large number of private universities have become shops to sell degrees. Students are enrolled but are not required to attend classes. Such students are working in different states and turn up only to collect the degrees. This is a common practice in private universities in Solan district.
2. The 'quality of education' in these private universities can be gauged from the fact that in many private universities Phd degrees are awarded in various streams like management, IT, Pharmacy, Science etc. However in one of the university in Solan district there is just one member of the faculty who is a Phd and that too in management. Though more than 100 enrollments in Phd has been done in the above state streams. Similar situation exists in almost all the private universities in the state.
3. There is hardly any infrastructure in these pvt., universities. The professional streams that are to carry practical's like Pharmacy, Sciences etc hardly have practical classrooms and laboratories. If at all such laboratories are available then availability of chemicals is an exception. These universities have become bases of selling out degrees.
4. None of the private universities' established in the state has competent and eligible faculty that qualifies the UGC requirements to teach. In many such universities those who have just passed from the respective class or course become teachers for the same courses' and classes'. One can easily gauge the quality of such institutions. In addition nowhere the faculty is being paid according to the UGC norms.
5. It is a strange phenomenon that in many of these pvt universities regular and practical courses like engineering, pharmacy, MTech in IT etc has become part time, where the students' regular attendance is not required. Some of these universities have opened distance education centres in Noida, Chandigarh and so on, though they cannot run such under the law that governs their university.
It is not first time when CPI (M) has pointed out at the Private universities in the state. Party is critical to these universities from its setting up procedure.
loot of the students . We urge you to intervene and order an inquiry by both the CBI and the UGC so that the guilty can be brought to book.