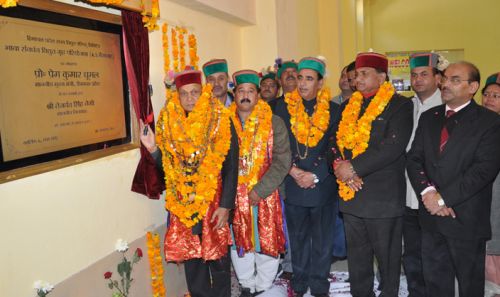 Chief Minister Prem Kumar Dhumal today inaugurated 4.5 (four point five) MW Bhawa augmentation Power House Project at Katgaon constructed by H.P. State Electricity Board at a cost of Rs. 56 crore. The project would fetch an annual income of Rs. 7.85 crore. He said that two percent of the project cost had been spent on local area development and the project had been constructed in a time bound manner. Addressing a public meeting on the occasion, Prem Kumar Dhumal said that the Government had formulated a plan to exploit 23000 MW power potential by 2020 whereas 7856 MW had been harnessed so far.
Chief Minister said that Bhawa augmentation project was a friendly one in which eight ropeways had been put in service for taking material to the project site so that it did not have any affect in the environment and ecology of the area. He said that 120 MW Bhawa hydel Electric Project Dam had been constructed at Kafnu and added that 10 MW Ghanvi and 100 MW Uhal 3rd phase hydel project were also proposed to be constructed through State Electricity Board. Dhumal said that the State Electricity Board would also take up renovation work of temple of Jainag Devta at Yangpa village and would also bear the expenditure on account of street lights in the village.
Chief Minister said that Government had popularized the Kinnauri apple throughout the world by making it Himachal Brand. Chief Minister said that to ensure participation of local people in the development the board has spent Rs. 25 lakh on the water supply schemes for Yangpa Kafnu and Katgaon villages, Rs. 34 lakh on construction of Kafnu-Kashba road besides constructing a temporary bridge at Mashram. Rs. seven lakh had been spent on providing street lights in Yangpa village, he added.
Prof. Dhumal announced Rs. five lakh for Maheshwar Devta complex, Rs. three lakh for Nag Mandir at village Yangpa, Rs. one lakh for Bodh Bhikshu Mandir, Rs. one lakh Mahila Mandal Yangpa and Rs. three lakh for Kuldev temple. He also announced Rs. two lakh for Mahila Mandal Dei, Rs. three lakh Karana Mahila Mandal and Rs. four lakh for Katgaon Mahila Mandal. Tejwant Negi, MLA described the present State Government rule full of achievements and thanked the Chief Minister for giving liberal funds for development of tribal areas. He requested to link Bhawa valley with Pin valley. Sanksha Dolma, President, Katgaon Gram Panchayat welcomed the Chief Minister to the area and put forth demands of the area. Narinder Bragta, Horticulture Minister, Rikhi Ram Kaundal, Deputy Speaker, H.P. Vidhan Sabha, Chet Ram Negi, former Parliamentary Secretary, Surat Negi, District BJP President and other prominent persons were present on the occasion.