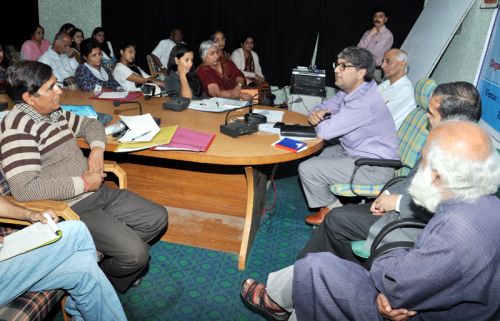 Secretary Information and Public Relations Ram Subhag Singh inaugurated the Second week long Film Appreciation Course organized jointly by the National Film Archives of India, Film and Television Institute of India and Department of Information and Public Relations, Himachal Pradesh here today. About 60 participants from various walks of life from Delhi, Punjab, Haryana, Uttar Pradesh, Union Territory of Chandigarh and Himachal Pradesh are participating in the course.
Ram Subhag Singh said that the course will go a long way in sensitizing the people towards the aesthetics and the basic language of cinema. He said the participants will be benefited by this introductory course which would elaborate upon the various components of the medium of cinema. He said the department had conducted this course before and would do so in future also for promoting awareness about this popular art. He assured that possibilities would be explored to screen the movies, which were part of the course in the Gaiety Theatre in future. He emphasized on the importance of cinema and added that viewing films after going through discussions develops a more interesting perspective among the audience.
Director National Film Archives of India informed that the Institute is conducting a month long full time course for cinema lovers across the country. He said that short termed courses were also being conducted at various places and added that it had generated vast interest and was evoking great response. He said the course is designed according to the demand of the participants and added that session on Documentary was introduced this year for the first time.
Director, Information and Public Relations Department B.D.Sharma welcomed the participants and the faculties of the course and informed about the steps being taken to promote interest of viewers in films.
Urmila Joshi, Faculty of the Course thanked for making concerted efforts for organizing the event. The course will cover topics like "How Films are Made", " Film Analysis", "Genre in Cinema" , "Changing Concepts of Popularity in Hindi Cinema", "Animation Techniques " , "Cinema Masters – Exploring Story Telling", " Documentary Analysis", "Screenplay Writing", " Role of NFAI Centre"and popular and critically acclaimed films like Madhumati, Charulata, Way Home, Padosi, Singing in the Rain, Shwas, Roman Holiday, Mirch Masala and Tahan will also be screened during the evening sessions. Samar Nakhate, Dhwani Desai, Arvind Deshpande, Samskar Desai and senior officers of the Information and Public Relations Department attended the inaugural function.