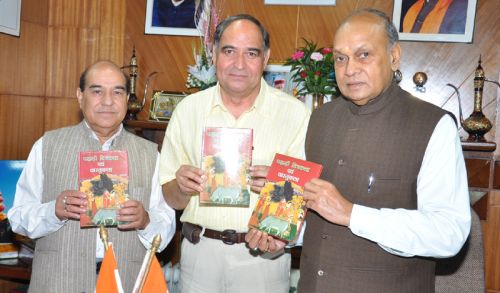 A book on 'Pahari Chitar Kala and Vastu Kala' is released by Chief Minister Prof. Prem Kumar Dhumal here today. The book is written by Sudarshan Vashishtha. Chief Minister lauded the efforts of the author for incorporating important information about the arts of Himachal Pradesh.
The book contains important information about the world famous Kangra Kalam along with the different school of paintings in other parts of the State. Besides the introduction of origin and development of this art, the author has described its historical background and specialties too. Based on Radha-Krishana, Shiva, Devi Bihari Satsai, Baramasa, Geet Gobinda, all aspects of this art including different styles have been revealed.
The author, after describing the historical background of Kangra paintings alongwith Guler, Nurpur, Chamba, Mandi, Bilaspur, Baghal, Basohli style has given description of few important paintings, which helps to understand its nature and style. The information about old Pahari Masters alongwith the artists working presently in this field are also made available. Besides writing on the old schools of paintings in different parts of the State, the important information about the old forts, palaces, temples, sculptures and folk arts is given, which is every important. The information about Tribal and Folk Art is also valuable.