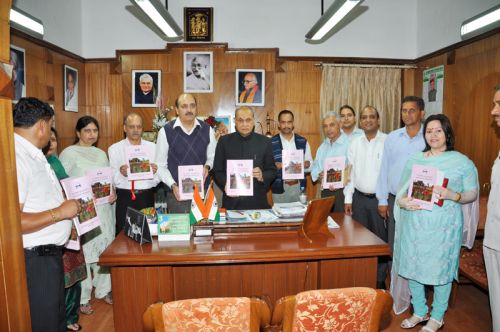 Chief Minister Prof. Prem Kumar Dhumal here today released the 'Gender Statistics – Himachal Pradesh' brought out by the Department of Economics and Statistics on the Statistics Day to mark the 118th birthday of renowned statistician late Prof. Prasanta Chandra Mahalanabis for the contribution he had made in the field of statistics and economic planning and preparation of draft reports of 1st and 2nd Five Year Plans as also to establish National Sample Survey Organisation.
Speaking on the occasion Chief Minister said that Himachal Pradesh happened to be the second state in the country where female ratio had improved considerably and the State now had 974 female against one thousand male thereby registering an increase of 6.8 percent He said that female sex ratio in the State was higher in comparison to neighbouring states Punjab with 893 female against one thousand male, Haryana 877, Jammu and Kashmir 883 and Uttrakhand 963. He said that women literacy rate was only 20.23 percent in year 1971 which now had increased to 76.60 percent. He said that women participation in 6th Elections was 45.3 percent which increased to 74.6 percent in 13th General Elections and the decadal growth rate of female was 13.13 percent against 12.50 percent of male. He said that women employees had also increased to 37,555 showing an increase of 10 percent compared to 34,197. He said that the State Government had provided 50 percent reservation to the women in panchayati raj elections and 57 percent women representatives had been elected to various posts.
Chief Minister congratulated the Department of Economic and Statistics for bringing out such an important publication which would benefit the research scholars in getting all the figures in one publication. Earlier Economic Advisor Pradeep Chauhan detailed the contents of the publication.