Reddy accuses Congress of assigning "tailors' jobs to barbers" and lacking interaction with people
Former Chief Minister of undivided Andhra Pradesh and Congress stalwart Kiran Kumar Reddy joined the Bharatiya Janata Party (BJP) on Friday, dealing a blow to his former party. Reddy, who was a four-time Congress MLA, criticized his former party for being "clueless" and not accepting people's verdicts in state after state. He also accused Congress of assigning "tailors' jobs to barbers."
Reddy's decision to join the BJP comes after Congress veteran AK Antony's son, Anil Antony, joined the BJP in Kerala. The BJP has been making inroads into the southern state, where it has traditionally had a weak presence.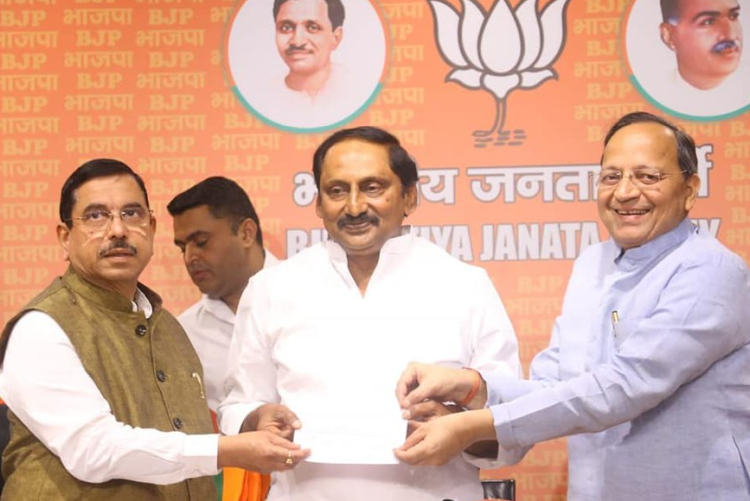 Reddy praised the BJP and Prime Minister Narendra Modi for their clarity of vision about national development and anti-corruption crusade. He mentioned BJP's well-crafted expansion in the Lok Sabha polls and said nothing came easy. Reddy hoped to work to expand the BJP in Andhra and Telangana. He said the BJP means nation-building and service to the poor is the motto.
Reddy's decision to join the BJP is a significant development in Andhra Pradesh politics, where the ruling YSR Congress Party and the opposition Telugu Desam Party have been dominating the scene. The BJP has been trying to expand its base in the state, which has a sizeable Hindu population, and Reddy's entry could provide a boost to its efforts.
Reddy and his family had joined the Congress in 1952, and he was a prominent leader in the party. However, he had quit Congress earlier protesting the bifurcation of the state. He said that Congress was unable to accept people's verdicts in state after state. He mentioned that the BJP had improved its tally from two Lok Sabha seats in 1980 to 303 today and an improvement of 30 per cent in their vote share from 7.74 per cent to 37.36 per cent, whereas the Congress has come down from 404 seats in 1984 to 44 in 2014 and lost 30 per cent of the vote share from 49 to 19 per cent.
Reddy left Congress for all these reasons and said that he wants to work for the development of Andhra Pradesh and the nation. He joined the BJP in the presence of Union Minister Pralhad Joshi, party General Secretary Karnataka Arun Singh, and BJP national media head Anil Baluni.
The BJP has been making concerted efforts to expand its presence in the southern states, where it has traditionally had limited success. The party's victories in Karnataka and its improved performance in Kerala and Tamil Nadu in the recent state elections have given it a renewed hope of making inroads into the region. Reddy's entry into the BJP could provide the party with the much-needed impetus to take on the regional parties in Andhra Pradesh and Telangana.