Shimla: The appointment of Nigam Bhandari and Yadopati Thakur as president and working president of Himachal Youth Congress, did come as a surprise, albeit party think tanks did best to try to placate the warring factions of the state party affair.
However, how these two rivals will go along and steer the youth wing of the party, is a tough question to answer.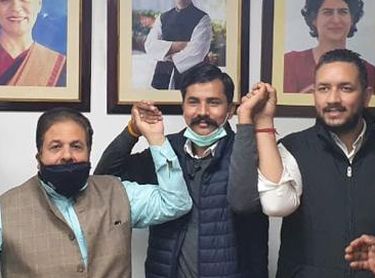 Nigam hails from Pangi village of Kalpa in district Kinnaur of the state and has vast organizational experience from NSUI and Youth Congress. Nigam had also held various important position in student and youth wing of the party and including in-charge of Maharastra, Mumbai, Orissa, Daman & Diu, Dadar Nagar Haveli and Andaman & Nicobar. Nigam coordinated in Gujarat and Chhattisgarh assembly elections.
He was also assigned the task of AICC observer in MP Vidhan Sabha elections. Whereas Yadupati, hails from Sarkaghat region of mandi district, has presided over the NSUI wing in the state.
Nigam candidature was supported by Raghubir Singh Bali, while Yadopati was backed by Shimla rural legislature and former Youth Congress president Vikramaditya Singh.
At first, Nigam's win had surprised most of us by taking decisive lead over Vikramaditya Singh's backed candidate Yadupati Thakur.
It's a first time when a candidate from rival camp of Vikramaditya Singh has got more votes. Despite failing to get majority votes, it's evident that Yadupati was appointed working president only at Singh's behest, despite the fact that there is no provision of such appointment atleast in youth wing.
Both youth leaders did not shy from displaying their political preferences as well.
After appointment, Nigam rushed to Mazdoor Kutiya, private residence of Raghubir Singh Bali and later addressed a press conference at Kangra in a presence of Congress leader and former youth Congress president Manmohan Singh.
Whereas, Yadopati visited Holly Lodge to meet former six-time Chief Minister Virbhadra Singh. He also met leader of opposition Mukesh Agnihotri a confidant of Virbhadra Singh.