Shimla: Chief Secretary B.K. Agarwal launched forest fire safety campaign from the state Secretariat to be undertaken for nine days across the state.
Under the campaign, four teams of the forest publicity division would aware the general public on different routes about the safety of forests from the forest fires.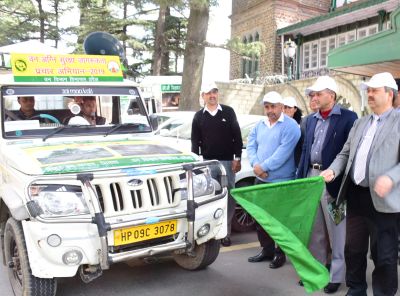 Speaking on the occasion, the Chief Secretary said that the awareness programmes would be organised in 64 forest ranges through Nukkar Nataks, exhibitions and distributing publicity material on preventing the forest fires.
The local communities, non-government organisations and departments concerned would be included in the forest fire fighting force.
Presently there were 13500 members of rapid forest fire fighting force in the state.
Agarwal appealed to the people of the state to give their active support for preventing the forest fires which causes heavy loss to the natural resources and human property as well.
Every year, forest property worth crores destroyed in the forest fire. Animal, birds are the worst hit by the forest fire. The state government has so far failed to check the forest fire, however negligence and lack of proper forest management are the main reason behind the forest fire. The Forest Department has mooted to set up 25 units for making briquettes out of highly inflammable pine needles which will be sold to the cement industry as an alternate fuel.
The department has prepared the state policy for use of pine needles which will ensure involvement of mahila mandals, panchayati raj bodies, yuvak clubs and voluntary organizations. A Faridabad-based company is providing the machinery as per the design and technology prepared by IIT Mandi experts.