Shimla: Loyalists of outgoing state Congress chief Sukhvinder Singh Sukhu and veteran party leader Virbhadra Singh clashed today at the formal takeover by new chief Kuldeep Singh Rathore at the Congress Bhawan.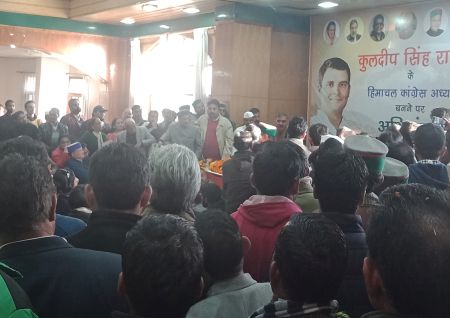 As Kuldeep Singh Rathore, Virbhadra Singh along with other leaders reached the party office, provocative sloganeering by the loyalists of rival factions started. Most of the leaders tried to pacify the supporters, but one group continued sloganeering and in between other too joined in and resulted in injuring one. The party workers exchanged blows and also flung chairs at each other.
Following clash, party veteran Virbhadra Singh, Kaul Singh Thakur, Asha Kumari and other left the hall.
Newly appointed Congress president Kuldeep Singh Rathore condemned the supporters behaviour and advised them to unite to fight for the forthcoming parliamentary election. He also condemned media statements of party office bearer and warned them not to repeat the same in near future. Rathore hailed the contribution of Virbhadra Singh in strengthening party in the state.
Outgoing state party chief Sukhvinder Singh Sukhu thanked party leaders and workers for their support and assured Kuldeep Singh Rathore for all help.
In his first decision as party president, Rathore entrusted his close confident Rajneesh Kimta with important assignment of party administration and organization.