Reckong Peo: To ensure timely medical attention in remote Kinnaur district, Himachal Pradesh Chief Minister Jia Ram Thakur announced ambulance service for Bhawanagar.
The Chief Minister Jai Ram Thakur, in closing ceremony of four-day long state level Kinnaur Mahostava-2018 at Reckong Peo in Kinnaur district, announced to start PG Classes in Political Science degree college Reckong Peo. And also ensured to look into the demand of opening of fire station at Bhawanagar and Sangla in the district.
Jai Ram Thakur said the state was known for its rich culture and traditions. Himachal Pradesh was also famous all over the world as 'Dev Bhoomi' for the deep faith of its people in regional deities. He said that Kinnaur Mahostava celebration helps in conserving the rich culture of the state.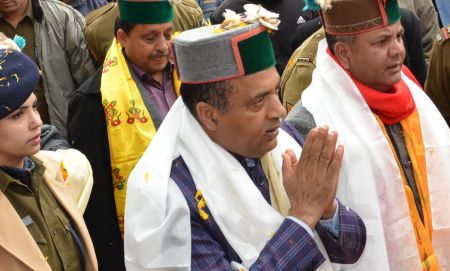 Jai Ram Thakur said that despite diversity in culture, the state was known for its harmony and peace. The present state government was committed for speedy and balanced development of all areas for which cooperation and support of each and every person was solicited.

During his maiden visit to the district, he laid foundation stones and dedicated developmental projects worth crores of rupees to the people of the district on Friday.
He announced an irrigation scheme in Gram Panchayat Spillo of Kinnaur district from Lipa to Korla. He also laid foundation stone of lift irrigation scheme at Pooh to be constructed at a cost of Rs. 5.73 crore, which would provide irrigation facilities to 230 hectare area.
The Chief Minister announced Rs. 50 lakh for construction of Namgyan irrigation canal, Rs. 50 lakh for the construction of Community Culture Centre at Roopa village, Rs. 50 lakh for construction of irrigation scheme from Raman to Gyaban and Rs. 10 lakh for Community Hall at Titang in Dubling Panchayat. He said that lift irrigation scheme Gyaban from Roopa Khad to Choti Shive and flood protection work in Dubling village would be carried out and he directed the district administration to prepare estimate for the same.
Later, the Chief Minister laid foundation stone of Urban Mission Scheme at Moorang to be completed at a cost of Rs 15 crore and inaugurated newly constructed building of PHC Rarang at Moorang constructed at a cost of Rs. 74.50 lakh.
He announced to provide Rs. 70 lakh for Timche irrigation kuhal at Murang.
Vice Chairman Himachal Pradesh Forest Corporation Surat Negi urged the Chief Minister for making the Forest Rights Act 2006 tribal people friendly.