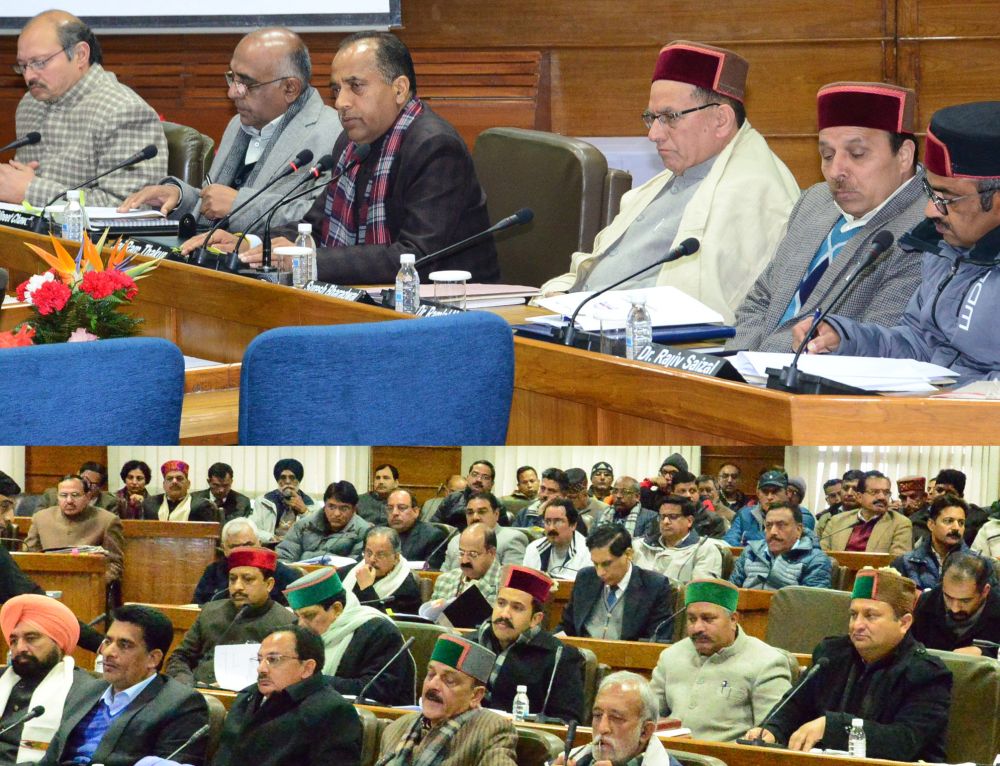 Shimla: State plan size for fiscal 2018-19 has been proposed for Rs. 6300 crore which is Rs. 600 crore more than last year an increase of 10.51 percent. This was announced by Chief Minister Jairam Thakur while presiding over the MLAs Priorities meeting of MLAs of Solan, Sirmaur and Shimla districts today.
Chief Minister also announced increase for implementing works of MLA priorities under NABARD through Rural Infrastructure Development Fund (RIDF). The MLAs can forward their recommendations for getting works done by PWD and IPH departments upto Rs. 90 crore. This ceiling was Rs. 80 crore earlier.
Chief Minister paid his gratitude to Union Government for sanctioning Rs. 1351 crore for the proposed setting up of All India Institute of Medical Sciences (AIIMS) at Kothipura in Bilaspur district. He also thanked the Union Government for the PGI satellite centre at Una, costing around Rs. 450 crore. The 300-bedded PGI satellite centre in Una will help cater to the patients of the Himachal Pradesh belt at to their doorstep and in turn will reduce the rush of patients on the PGI providing quality healthcare facilities.
He said that the process of hiring consultancy services for preparation of detailed Project Reports (DPRs) of 69 National Highways as sanctioned by the Union Ministry of Road Surface Transport would be completed by 31st March this year and gave appropriate directions. He directed all the departments to take suitable steps to ensure implementation of centrally sponsored schemes.
The Government will take up the matter with Union Forest and Environment Ministry for enhancing the powers upto five hectares from existing one hectare, for giving clearances under Forest Conservation Act (FCA) for undertaking development works particularly the road projects which remain in limbo because of the complexity of FCA norms.
He said improvement in air connectivity, Úday Desh Ka Aam Nagrik' (UDAN), a regional connectivity scheme phase-I and II by the Prime Minister and strengthening of road network in the State would help in promoting tourism. The issue pertaining to running of Sea Planes has also been taken up with the Union Government.
The Government was committed for socio-economic uplift people of the State and believes in 'Sabka Saath, Sabka Vikas'. He said that the government intends to work on the lines of sustainable development goals framework and achieve the development targets by 2022.
The Government will try to initiate measures to curtail the unproductive expenditure and will try to improve the economic health of the State. He also stressed upon quality improvement in education to take measures of creating more opportunities of employment and self-employment. He also stressed the need for organic natural farming so that the farmers and horticulturists could be benefitted of the schemes.
The Chief Minister directed all the departments to get the works of MLAs priorities done and get most of them sanctioned under on-going centrally sponsored schemes and invited further suggestions from MLAs.