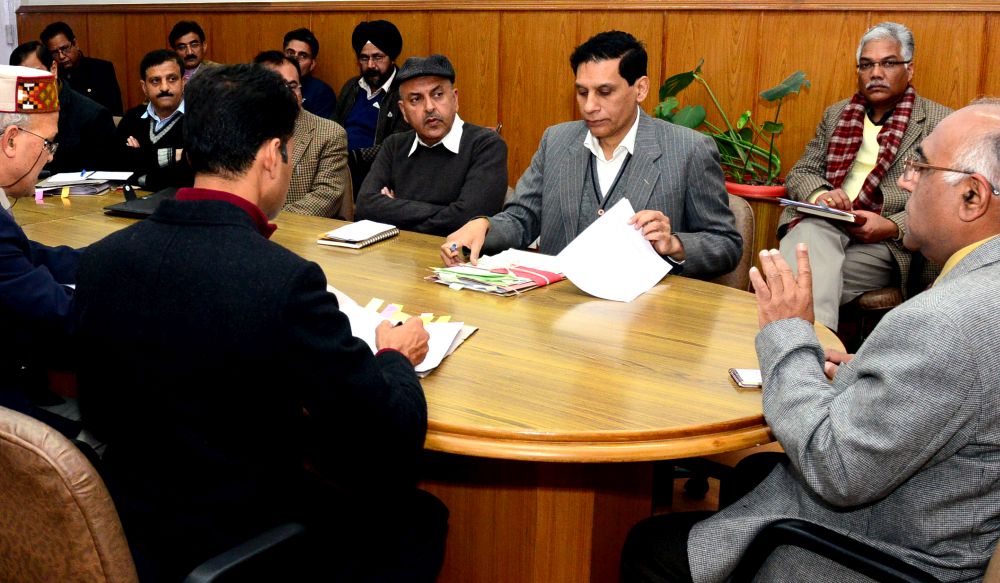 Shimla: Following the long dry spell chances of spreading water borne diseases especially Hepatitis has increased in Shimla and Solan region of the state.
To ensure check on the spreading water borne diseases, Chief Secretary Vineet Chawdhary held a review meeting with the senior officers of the State Government today, and directed the IPH and Health departments to adopt Standard Operation Procedure and clean all the water tanks and reservoirs in the State. Chaudhary said
"All the Government departments such as Irrigation & Public Health, Rural Development, Urban Development, Health, Municipal Corporation and other Local Bodies should work with close co-ordination to check spread of any case of water borne diseases such as Hepatitis-A or Hepatitis-E"
Chawdhary asked officers to motivate people and asked them to clean their private water tanks, as at times the water gets contaminated within the private tank itself. He said that it was of utmost importance to sensitize the masses about the precaution and preventive measures to be taken to check outbreak of any water borne diseases.
He said that for this Information, Education and Communication committee should be constituted with officers of IPH, Health and Municipal Corporation Shimla for preparing and implementing an effective media strategy to spread awareness regarding safe drinking water.
Cleanliness of drinking water should be made a mass movement
Chief Secretary said that emphasis should be laid on making the cleanliness of drinking water as mass movement. He said that Gram Sabhas should also be involved to educate the people to spread awareness in rural areas through its regular meetings. He said that people should also be sensitized through Giriraj weekly of the Information and Public Relations Department, keeping in view it reach in the rural areas.
He said that testing and sampling of water should be done aggressively and with latest equipment. He said that effective working of all the six sewerage treatment plants in Shimla town must be ensured. He said that the IPH department and the Shimla Municipal Corporation must also ensure that there was no leakage in the sewerage and drinking water pipelines, as it was the major cause of water borne diseases.
Chawdhary said that adequate stock of chlorine and other medicines must be ensured and care should be taken that the same was of proper shelf life.
Strict action for contamination of water resources
The Chief Secretary direct to take stringent action against those business establishments, hotel and restaurant owners, who activities are causing contamination of water resources. He said that effective steps must be taken to protect the catchment areas in the State to check water contamination.
He directed all the Deputy Commissioners to hold regular meetings to monitor steps being taken to check water borne diseases in their respective districts.
IPH cleans 21,000 water tanks in the State
Devesh Kumar, Secretary IPH said that over 21,000 water tanks have been cleaned in the State and the Department would ensure that a few tanks in snow bound tribal areas would be cleaned at the earliest. He said that effective chlorination of water bodies would be ensured.
Urban Development Tarun Kapoor Additional Chief Secretary, Principal Secretary Health and Family Welfare Prabodh Saxena, Secretary Rural Development and Panchayati Raj Dr. R.N. Batta, Director Rural Development and Panchayati Raj Rakesh Kanwar, Director Urban Development Dr. D.K. Gupta, Director Information and Public Relations Anupam Kashyap, Director Health Dr Baldev Thakur, Engineer-in-Chief Irrigation and Public Health Anil Bahri,, Principal IGMC Dr Ashok Sharma and other senior officers of the State Government were present in the meeting.