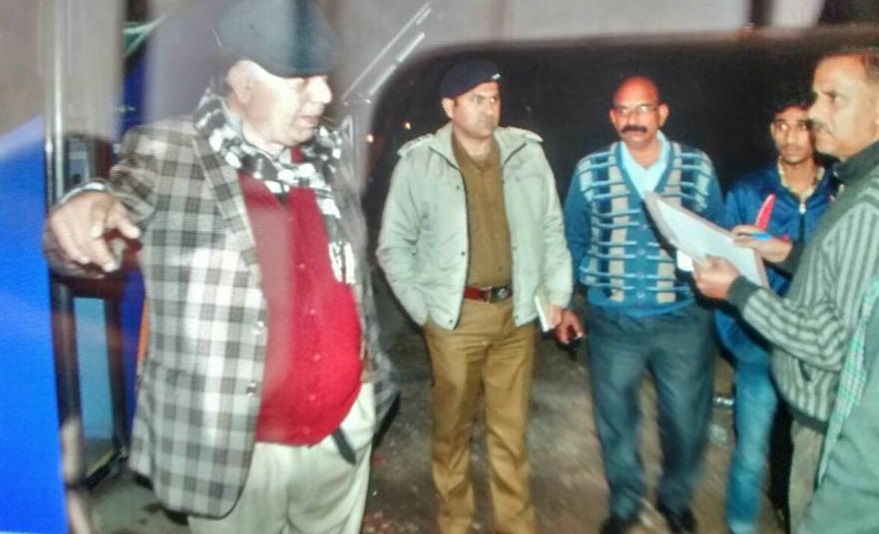 At early morning at 3:30 on Wednesday, the Transport Minister G.S. Bali himself took to field to tighten noose around illegally plying buses on long-routes without permit. Accompanied by transport officials from district Bilaspur, Hamirpur, Mandi, and Una the minster caught eight buses carrying passengers on long-route without route-permit. As per the Minister's statement, 7 such buses were seized and one other was issued a challan of Rs. 5,000 and was released on the spot.
The minister carried out this raid between Kangra and Amb in district Una from 3:30 AM to 8:00 AM. To avoid inconvenience to passengers, the minister had arranged eight separate buses.
The action surprised all those who saw the minister in field himself. The minister rebuked HRTC official for failing to curb such nuisance on their own level. This is the reason why he had himself conducted these raids, said the minister. It was informed that legal action would be initiated against the owners of seized buses.
Earlier this year, it was reported that a dozen of private Volvo buses were illegally plying from Himachal Pradesh to Delhi. In July, the Transport Minister G.S. Bali had warned the owners of these buses of strict action if the practice is not stopped. The minister had also warned the passengers to avoid traveling in these buses as they could face inconvenience as well.
"Before taking action, I would like to warn passengers travelling in these buses not to do so. Otherwise, they too will have to suffer," had said Mr. Bali.
He had also announced introduction of 20 new Volvo buses to mitigate shortage of luxury bus service between popular tourist town of the State and Delhi. Five of these buses were declared for Dharamsala-Delhi route.
People have welcomed the initiative by the minister while corporation officials have also jolted by surprise raid conducted by Mr. Bali himself.