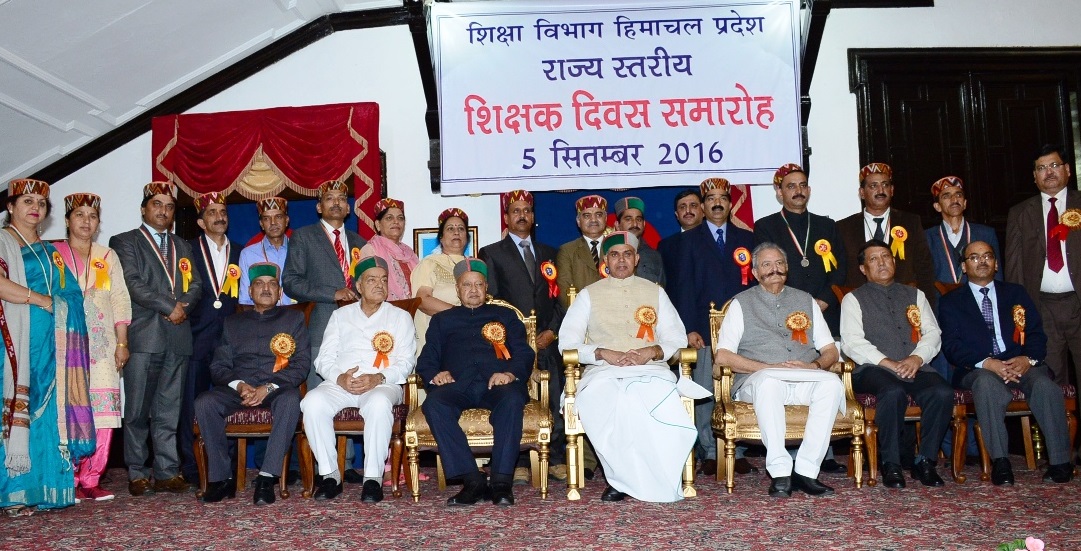 Shimla: On the occasion of Teacher's Day, the state Governor Acharya Devvrat conferred State Awards upon 10 teachers and honoured four National Award Winner teachers for the year 2016 at Rajbhawan today.
The State Awards was conferred upon Poonam Rana, Principal, GSSS Dehra, District Kangra, Vandana, Lecturer, GSSS Kot Tungal, District Mandi, Dr. Ramesh Chand Sharma, Lecturer, GSSS (Girls), Mandi, District Mandi, Jagdish Suri, Lecturer, Physical Education, GSSS Ruslah, District Shimla, Ranvir Singh, PTI, GHS Shavga, District Sirmour, Dr. Duni Chand, Shastri, GSSS Subathu, District Solan, Parvati Devi, JBT, GPS Bharti, District Solan, Satish Kumar, JBT, GPS Bakredi, District Hamirpur, Sanjiv Kumar Mehta, JBT, GPS, Banshera, District Shimla, Ram Kumar Joshi, JBT, GPS Mehatpur, district Una, while four National Award Winners for the year 2016 including Dr. Chandreshwar Sharma, Headmaster, GSSS, Kuthar and presently working as deputy director, Primary Education, Solan, Kashmir Singh, Headmaster, GHS Bhalon, District Una, Ram Pal, TGT, GSSS Dharampur, district Una and Sandesh Sharma, Headmistress, GPS Ghaliyan, district Bilaspur were also honoured on the occasion.
The Governor paid rich tributes to late Dr. S. Radhakrishnan. He termed Dr. Radhakrishnan as a veracious personality, noble laureate, academician and an able administrator.
In his address on the occasion, Acharya Devvrat asked to start special campaign for teaching community to educate them about child psychology so that they could understand the real thoughts of the child.
He said that India was a country of great educationists, who scripted many texts for the welfare of humanity. There was a time when India was the centre of education in the world and students from all over the world used to visit here for attaining knowledge. He said that Taxila and Nalanda were the great centres of higher learning in the world and our culture accorded highest reverence for teachers and it was due to the learned 'Guru's' and the knowledge possessed by our ancestors that India was regarded as a hub of Knowledge.
While congratulating the awardees, he appealed the teaching community to work with more commitment for future generations.
R.D. Dhiman, Principal Secretary, Education welcomed the dignitaries on the occasion and briefed out various activities and achievements of the education department.