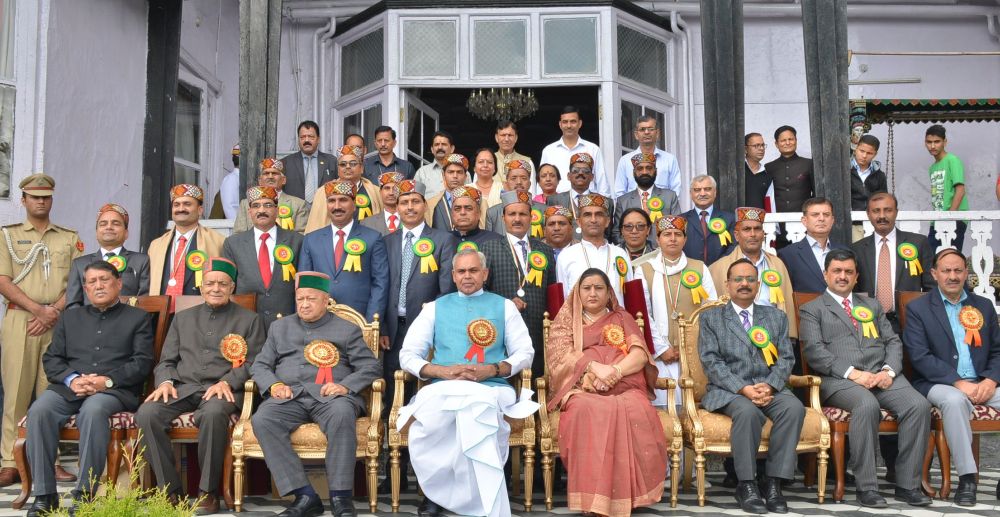 Shimla: Governor Acharya Devvrat today conferred State Awards upon 16 teachers and honoured four National Award winner teachers for the year 2017 in a function on State level Teacher's Day at Raj Bhawan.
The State Awards were bestowed upon Suresh Kumar Vidyarthi, GSSS Udyapur, Adit Kansal, GSSS Rajpura, Dharampal, GSSS Keolidhar, Rakesh Kumar, GSSS Reckongpeo, Vijay Bharat Dixit, GSSS Thural, Joginder Pal, GSSS Kangar, Manisha Kumari, GSSS Palampur, Prem Raj Sharma, GGSSS Lakkar Bazar, Jagat Ram Sharma, GSSS Hallan, Hari Das Chauhan, GSSS Jeori, Chhering Gatuk, GCPS Shichling, Chaukas Ram, GPS Dhangota, Hari Chand, GPS Chillage, Daleep Singh Chauhan, GCPS Brayogi, Joginder Singh, GCPS Mattahni and Jai Parkash Shyam, GPS Sharan Kandal.
National Award Winners Bhupinder Gupta, Principal GSSS Bhumti, Krishan Chand, Principal GSSS Paurakothi, Naresh Kumar Shastri, GSSS Shorshan and Shyam Lal CHT GCPS Sagirthin were also honoured on the occasion.
While congratulating the awardees, Governor appealed the teaching community to work with more commitment and dedication. He pointed out that children were incurious and whatever instilled in childhood would have lifelong impact upon their lives so the teachers should emerge as an inspiration to them by setting high examples of intellect and learning, practising good behaviour and adopting perfect discipline in their conduct.
The Governor urged teachers to make students aware about the core values of our culture and glorious history in order to instill a sense of patriotism and pride for their country.
Chief Minister Virbhadra Singh said that State government had given top priority to education sector in the state. He said the state has taken a lead in imparting quality education to children and in a survey, it was adjudged as the Best Big State in imparting higher education to youth in the country.
He congratulated the awarded teacher and said that it was great honour in one's lifetime to get awards in the profession. He said teachers were the backbone of the civilized society and they should work with dedication.