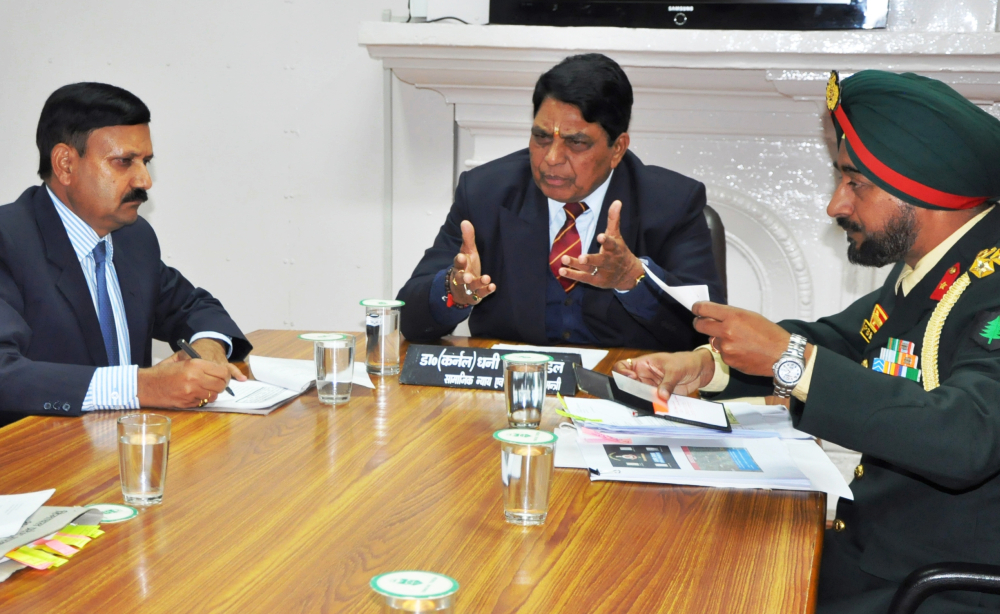 Social Justice and Empowerment Minister Dr. (Col.) Dhani Ram Shandil said that modern military stations and CSD canteens would be soon set up in Una and Bilaspur districts of the State.
In Una district 1100 acres of land had been identified at Varno, Bharshali and the land adjacent to these areas for this purpose, while the process was under progress to identify land at Bassi in Bilaspur district.
Dr. Shandil was presiding over a meeting of State Sainik Welfare Department organized here today to review the progress of identification of lands for CSD canteens and military stations in Una and Bilaspur districts.
Minister informed that the army had demanded 2800 acre of land for setting up modern military stations and CSD canteens in both districts and the Government had taken effective steps to meet these demands and the rest lands would be identified soon. He directed the Deputy Commissioner of Una to transfer 1100 acre identified land to the army so that the construction could be taken up at the earliest.
The Minister said with the coming up of military stations and CSD canteens in two districts the security of the proposed rail line through these districts would also be issued. Besides, the ex-servicemen and their dependents would also get essential items at reasonable rates.
He disclosed that Sainik Welfare Department was providing daily needs items at subsidized to the serving soldiers and their dependents besides ex-servicemen through 27 CSD canteens, seven extension counters and 55 mobile CSD canteens.
Deputy Commissioner, Una Abhishek Jain, Commander 95-Infantry Brigade Kasauli, Brig. PBS Lama, Special Secretary Sainik Welfare Department Dr. Sunil Chaudhary and other senior officers were also present in the meeting.