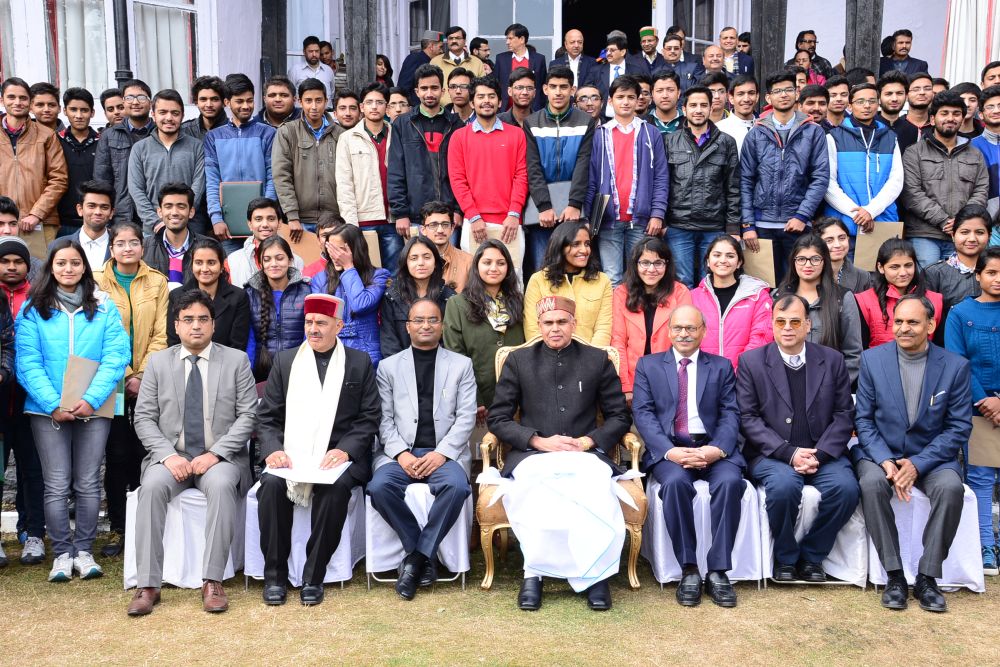 Shimla: Governor Acharya Devvrat conferred SJVN Silver Jubilee Merit Scholarship Awards upon 100 meritorious students of Himachal Pradesh in an Award Distribution Ceremony jointly organised by Satluj Jal Vidyut Nigam Foundation and HIMCON at Rajbhawan here today.
The Governor handed over a certificate and cheque of Rs 24000 to those students who qualified for the scholarships. This amount would be given to them every year till they complete their degree or diploma course.
Speaking on the occasion Acharya Devvrat urged the SJVN to contemplate setting up of an NDA Training Academy to train the youth of the state to compete for the defence services. He said that Himachal Pradesh was the land of brave soldiers who had exhibited valour and courage in the battlefield and served the motherland.
He said that 65 percent of the country's population comprised of youth who had immense potential and talent. He said that it was extremely essential to channelise this energy towards constructive purposes which if not properly harnessed and guided could stray away towards destructive activities which would prove harmful for the society. He said that youth should be brought into mainstream and motivated to participate in nation building activities and associated with social campaigns for bringing in awareness in the society.
Governor said that developing the spirit of patriotism was important so that young generation develop the spirit of nationalism, pride for the glorious cultural heritage of the country.
Acharya Devvrat called upon the young generation to stay away from drugs in order to progress in life and added that they should inculcate values like discipline, hard work, respecting elders etc.
Member Corporate Social Responsibility Committee Ganesh Dutt said that efforts were being made to discharge the social responsibility functions by implementing various initiatives in the education and health sectors. He assured full cooperation to initiate campaign against drug abuse to make the youth aware of its ill effects by involving NGOs and other agencies.
Chairman and MD SJVN R N Mishra informed about the activities of the SJVN Foundation and its contribution towards hydro-power sector.
Director Personnel Nandlal Sharma welcomed the Governor and detailed about the Corporate Social Responsibility activities being undertaken by the SJVN.
General Manager A K Mukherji, Directors and officers of SJVN, Rajbhawan, Meritorious students and their guardians attended the function.