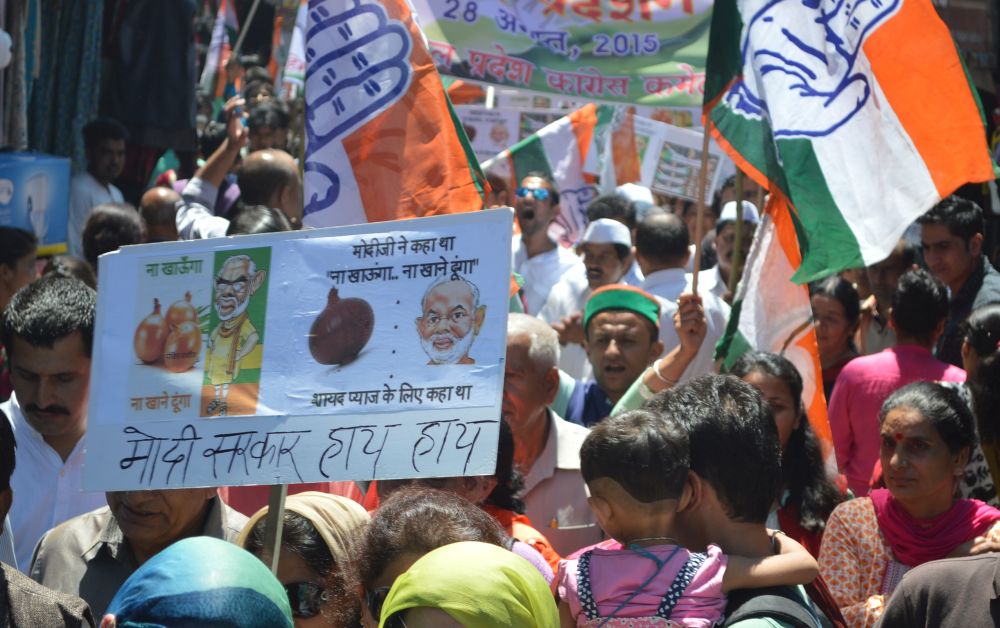 Shimla: Holding accountable for failing to control price hike and curbing corruption, Himachal Congress today held protest at the state and all district and block Congress Committee headquarters across the state.
A delegation led by state party President Sukhvinder Singh Sukhu along with other party office bearers submitted a memorandum to the President of India Pranab Mukherjee through Himachal Governor Acharya Dev Vrat Sharma.
Addressing party workers, Sukhu said that BJP came to power at Centre by raising hue and cry about price rise and high rate of inflation, thereby promising 'Achhe Din' for the people of the country. However, after coming into power the party has completely failed to control the prices of essential commodities including onion, vegetables and pulses due to this, it has become difficult for general public to meet their daily needs and livelihood.
"The prices of onion have skyrocketed and at present onions are being sold at Rs 80 per kg while the prices of onions were Rs 18 per kg in 2014. It has made onions out of the reach of the common man and they are not able to afford the basic item of food in the country," he said, adding that Narender Modi during parliamentary election campaign had promised to bring down inflation and had vowed to keep the prices of onions under control but now it seems that the BJP led NDA government at Centre had forgotten its promise.
State Congress President said that BJP had promised to bring down inflation, but the prices of pulses have increased by 50-70 percent which have made it difficult for general public to afford these items which are considered essential food items.
He stated the prices of crude oil have decreased by more than 60 to 70 percent in the international market, but instead of passing this benefit to the general public, the Union government has instead hiked excise duty.
He also accused Union Government for the failing the value of the Rupee against United State's currency. He believes that Rupee devaluation has become a cause of concern for Indian Economy.