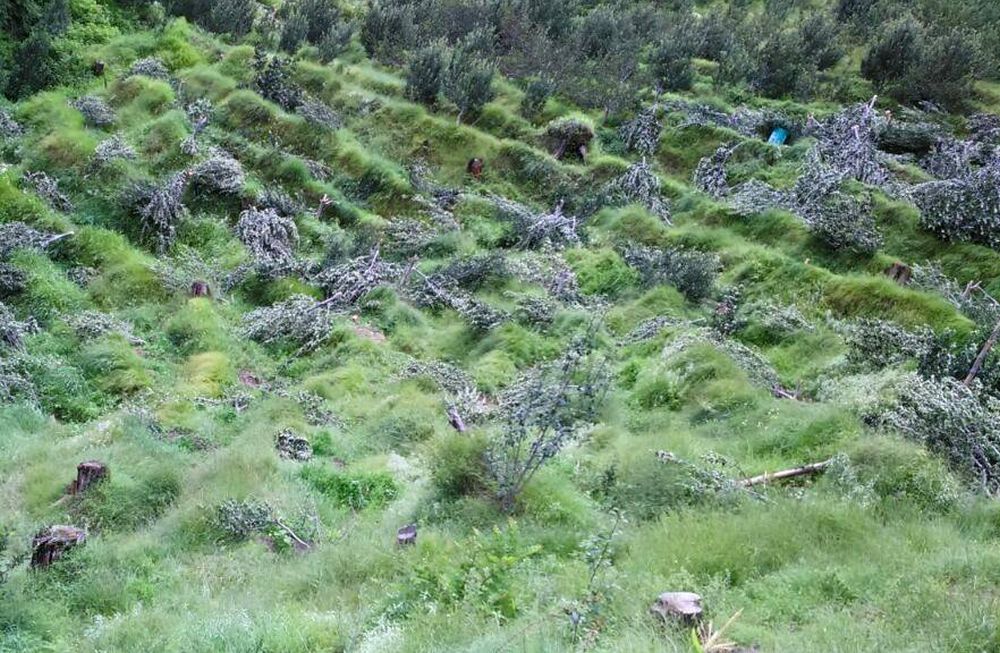 Shimla: Amidst the protest of fruit growers, the Himachal Pradesh High Court has refused to modify its previous order of evicting illegal encroachment on forest land, but stayed the process to uproot apple trees.
The division bench of Chief Justice Mansoor Ahmad Mir and Justice Tarlok Singh Chauhan, directed state officers, particularly the chief secretary and the principal secretary (forests), to make arrangements to pluck apples, sell the produce and utilize the money to plant forest trees and not allow any other kind of plantation.
The bench further directed the officials to undertake pruning of apple trees on the encroached forest land after plucking the fruit to minimize the crop in the coming seasons, and fence the entire land by barbed wires and ensure that no encroachment is made in the future. The court directed the state authorities to ensure plantation drive immediately after removing the crops. The hon'ble court also ordered to ensure no encroachment in future.
The bench observed that officials of the state have remained in deep slumber for a pretty long time and allowed the encroachers to plant apple trees, which have now become fruit growing trees.
The high court bench also sought details of encroachment on the forest land, and given responsibility to Chief Secretary, Principal Secretary (forests), and Director General of Police for monitoring the entire exercise and ensure to implement and complied Court's order with letter and spirit.
The court passed this order on an application filed by the state government for seeking modification in the order passed by the court wherein it had ordered to remove all encroachments from forest land. However, the Court has refused to modify its interim directions to clear encroachments, and reversing its previous order of disconnection of electricity and water connections of the encroachers.
Congress and BJP have welcomed the decision of Himachal Pradesh High Court. Both political parties said that the decision would go a long way protecting the ecology of the Himalayan region.
Congress spokesperson urged state government to look for possibilities for formulating policy to regularise the land for small and marginal farmers who had such orchards on 2 or 5 bighas of government land, while the state BJP has asked government to ensure compensation to those marginal farmers whose orchards have been destroyed.