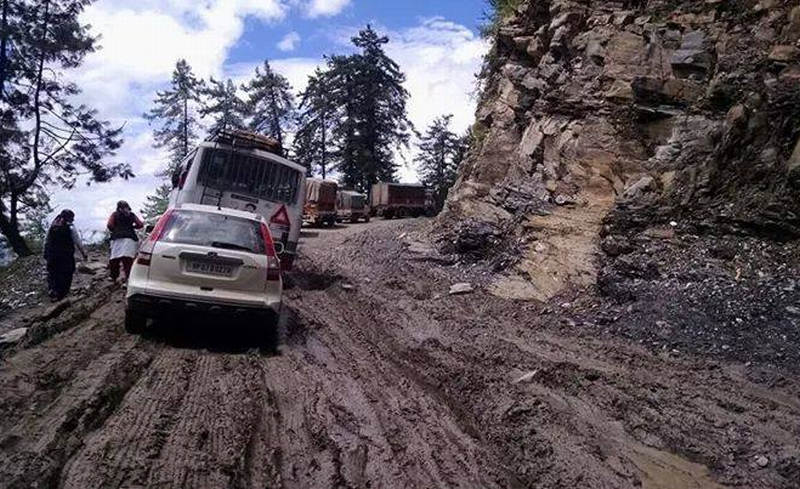 To ensure improved transportation of apple produce in the ensuing apple season on dilapidated Theog-Kharapathar-Hatkoti road, Chief Minister Virbhadra Singh has directed Chadha and Chadha (C&C) Construction Company to expedite the work and asked them to remove major bottlenecks before the apple season.
The Chief Minister, in the review meeting of Public Works Department and the representatives of Construction Company, asked company to improve road near Kharapathar and even direct Company to blacktop the six kilometers on both sides of Kharapathar by end of June with proper drainage system.
The Chief Minister also assured to repair all alternative roads; most of them are in bad shape from past five to six years, to ensure hassle free apple transportation. CM assured
All the alternate routes will be maintained during the apple season so that horticulturists do not face any problem in marketing their produce
The Chief Minster also said that wherever the land acquisition process for widening of the road had been completed and it should be taken over as soon as possible. He said
I know some people were creating hindrances on the issue of land acquisition which was causing delay in constructing the road
The Chief Minister asked the local elected representatives to intervene where such cases were found and get the issues solved amicably. He directed the Deputy Commissioner to personally monitor such cases.
He said revenue officials be directed to be on the spot along with the PWD authorities where issues of acquisition was involved and not to un-necessary create hindrances and also asked the representative of C&C Company to keep liaison with the Deputy Commissioner and to seek his help in case of any problem.
The Chief Minister also directed the PWD Department to blacklist those contractors who have been assigned the task of some major road projects and were delaying the work on the same. He also ordered that the departments concerned to give immediate permission to the company for using mobile crushers at Kharapathar wherein he directed the C&C Company to complete the codal formalities as soon as possible for mobile crushers.
Capt Rajbir Singh, MD of C&C company, assured the Chief Minister to start metalling work from 1st June, 2015 completing 34 kilometers patch of road from Theog to Gumma and Rohru to Hatkoti.