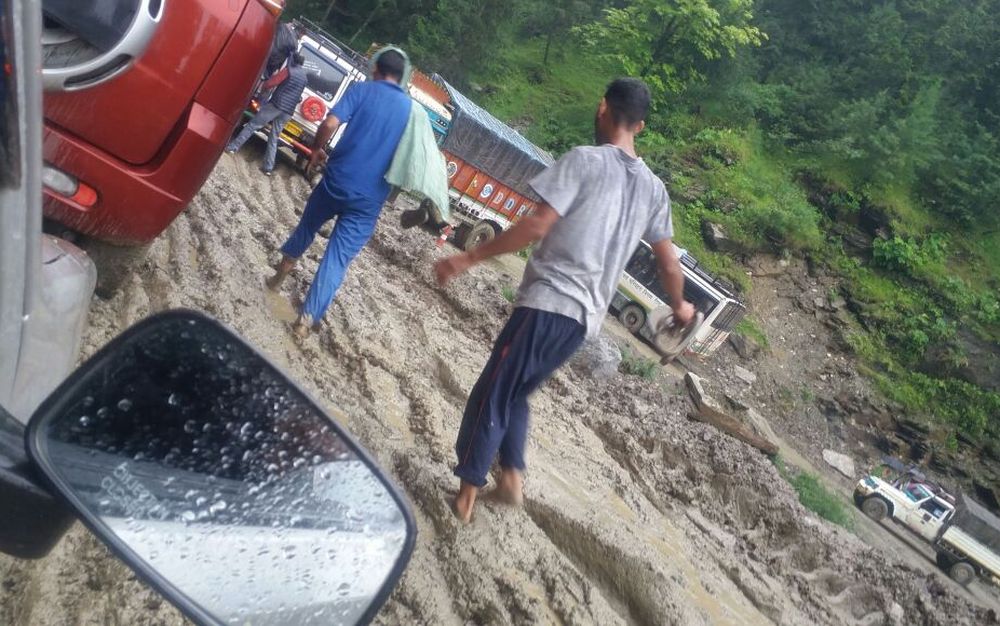 Shimla: Heavy rainfall has wreaked havoc in Himachal Pradesh. Landslides have interrupted vehicular traffic in most of the roads. Even state capital Shimla is also affected from incessant rain. Theog-Hatkoti road, which is being constructed from last eight years, is giving harrowing time to the commuters. Even big vehicles are needed a push from JCB machines.
Claiming of preparing for the monsoon rain, the state government convened a meeting for Mid Term Appraisal of Monsoon Season today under the Chairmanship of Chief Secretary VC Pharka. Senior officers of State Government, Deputy Commissioners (DCs) and other district level officers participated via video conferencing.
The Chief Secretary informed that Rs. 42 crores have been released for immediate relief and restoration by the State Government. He stressed upon restoration of blocked roads in all the districts immediately besides strengthening response mechanism of line departments particularly PWD, IPH and Power etc. in case of any emergency situation. He also directed all the DCs for providing immediate relief to victims.
Pharka directed DCs to take appropriate action for evacuation of establishments/ labour colonies/ settlements along with the river beds in low lying areas immediately. All the DCs should ensure the proper functioning of DEOCs/Control rooms 24×7, he added. He also directed Municipal Commissioner, Shimla to take immediate action for repairing all damages to roads, IPH water supply schemes besides identification and removal of trees which may prove threat to the general public. He stressed upon seamless coordination amongst all the departments for quick response.
Additional Chief Secretary Revenue, Tarun Shridhar also directed all the DCs and line departments to take immediate steps for restoration and speedy recovery of affected areas, so that people are not put to inconvenience. He asked the DCs to brief the media frequently and to hold regular meetings with line departments in the districts.
Secretary IPH, Anuradha Thakur directed all the DCs and officials of IPH Department to maintain the quality of drinking water, maintenance and monitoring of sewerage systems and organizing awareness campaigns for sanitation and prevention of water borne diseases.
Additional Chief Secretary, PWD, Narender Chauhan, Special Secretary, Revenue D.D. Sharma, Engineer in Chief, PWD & IPH, MD, HPSEB, Directors, Agriculture & Horticulture, Deputy Commissioners, district level officers were also present in the video conference.