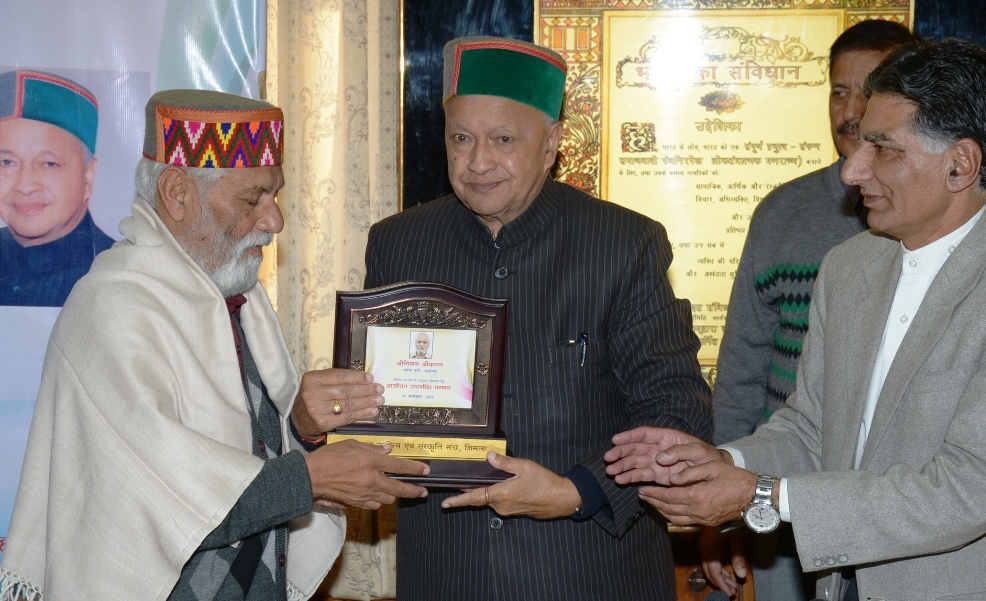 Himachal Pradesh Chief Minister Virbhadra Singh honoured the renowned poet, critic and littérateur, Shriniwas Shrikant with the lifetime achievement award for his efforts of promoting and preserving the Hindi literature in a function organized by 'Himalaya Sahitya Avem Sanskriti Manch' here today.
Chief Minister congratulated Shriniwas for the lifetime achievement award and said that it was really an accomplishment in the field of the Hindi literature, a language which is widely acknowledged and understood in 'Bharat'.
Aged 78 years, Shriniwas made his strong presence felt as a critic in Hindi literature. He began his writing career with his anthology of poems 'Niyati' and since then there was no looking back for him. He was honoured by 'Dinkar Award' by 'Rupambra' a National Hindi Academy for projecting relations between man and the nature through his early writings and poetry.
CM said that the Himachal Pradesh State Art, language and Cultural Academy was not working as per the expectations and the State Government would re-constitute its governing body and would assure that the cultural and theatre activities and all such activities related with promotion of the literature be taken up by the academy systematically and strengthens the same.
The Chief Minister said that any NGO working in the field of preserving our culture, language, Art and literature not only motivate the society as a whole but they deserve recognition and rewards. He lauded the efforts of the 'Himalaya Sahitya Avem Sanskriti Manch' which has been contributing in promoting the Hindi literature of the Himalayan region thereby building a relationship of a man with nature and also playing a pivotal role in highlighting social issues.
The Chief Minister also released the anthology of poems, 'Aadmi ki Duniya ka din' and a book titled 'Katha Trikon' a critical analysis by Shrikant which he devoted to his wife Nirmal Devi. Tejinder Sharma, who resides in London, Manisha Kulshreshth and S.R. Harnot had contributed write-ups for the Book.
Earlier, S.R. Harnot, President of the Himalaya 'Sahityaby Avem Sanskriti Manch' welcomed and honoured the Chief Minister and detailed the achievements of Shrikant Shriniwas in the field of Hindi literature.