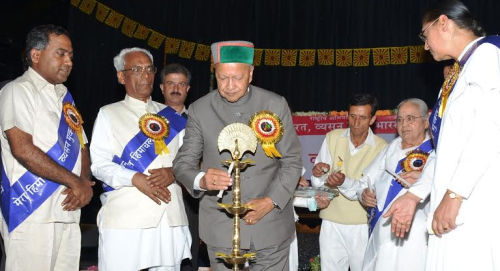 To make Himachal addiction free and to create awareness about ill effects of intake of intoxicants, a 15 days campaign organized by Prajapati Braham Kumari Vishvavidyala was launched by Chief Minister Virbhadra Singh at historic Gaiety Theatre, here today.
While speaking on the occasion he said that Rajyog Education and Research Centre of Prajapati Brahmakumari organization was doing a yeomen service by creating awareness amongst the society about drug addiction and rehabilitating the addicts by way of meditation and counseling.
Chief Minister said that drug menace was growing fast in the society which needed to be checked sternly as it not only affect the individual and his family but was also suicidal for the society as a whole. The Chief Minister handed over the flag of the organization to the campaigners on the occasion.
Earlier, the Chief Minister was honoured by the members of the Organization. Dr. Banarsi Lal Shah, Executive Secretary of the Medical Wing of Braham Kumari Vishvavidyala detailed about the aims and objectives of the campaign terming drug addiction as burning issue of the day which had to be tackled forcefully. He said that to overview the ill effects of drugs and to make the Nation free of drug, meditation and self realization were the only solutions.
Dr. Sachin Parab, Consultant Medical Advisor and trainer from Mumbai, in his key note address highlighted the fatal effects of drugs intake and the measures to be adopted to overcome the same.
Braham Kumari Geeta Behn, senior trainer at Mount Abu, detailed about the activities of the organization and stressed upon meditation for self -realization.
Other senior doctors of the medical wing of the organization also spoke on the occasion.
Braham Kumari Krishna Behn welcomed the Chief Minister. She informed that the campaign would end on 2nd July, 2014 at Dharamshala.
Sanjay Chauhan, Mayor, Municipal Corporation, Shimla, Tikender Panwar, Deputy Mayor, Janeb Chandel, Chairperson, State Women Commission were also present on the occasion among other dignitaries.