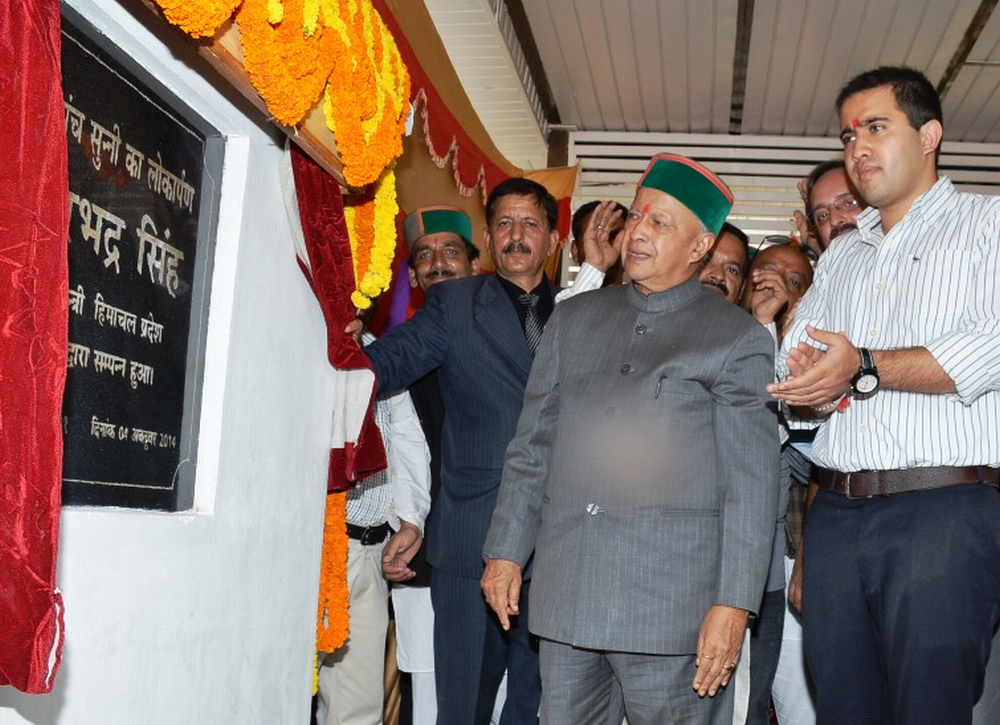 Himachal Pradesh Chief Minister Virbhadra Singh participated in closing ceremony of the Sunni district level Dussehra festival in Shimla district today.
While addressing a gathering at Sunni Mela ground, Chief Minister emphasized to preserve pahari traditions and customs. He said that in the absence of preservation of traditions and culture no Nation can prosper.
Counting developments in the area he said that three industrial training Institutes had been opened in the Shimla Rural segment at Jalog, Dargi and Sunni besides four Primary Health Centres at Totu, Gulthani, Nehra and at Dharogra. Two Community Health Centres were also opened at Halog and Jalog.
The Chief Minister inaugurated the 'Dussehra Kala Manch' at Dussehra ground Sunni constructed at a cost of Rs 13 lakhs for which he announced to give the cost of entire completion cost.
He said that Shimla Rural was his home segment and he was working whole heartedly for the development of the area. He added that developmental works had been speeded up in the area during past one and half years and special emphasis had been laid on opening more educational, health institutions besides providing road connectivity to the left out villages.
Earlier, the Chief Minister laid the foundation stone of the Sunni Bus Stand to be constructed at a cost of RS 8.53 crore and also laid foundation stone of multipurpose hall of Government Degree College at Sunni to be constructed at a cost of Rs eight crores. The Hall, when completed will accommodate as many as 700 people besides having other facilities.
The Chief Minister also inspected the ongoing work of the Civil Hospital, Sunni being constructed as a pilot project under pre-fab technology and will be having 30 bed facility besides 20 already existing and said that the inauguration of the same would be done on 25th Nov 2014.
The Chief Minister en-route Sunni inspected Old age Care home being constructed at Basantpur being constructed at a cost of Rs 2.45 crore and directed to complete it within a stipulated time period. He also directed for construction of Panchayat Hall in the premises' of BDO office Basantpur with intake capacity of as many as 100 people and asked to spruce up the surroundings. He also asked the PWD authorities to take over the Reog road in Basantpur for maintenance and improvement.
Vikramditya Singh, President State Youth Congress, while speaking on the occasion said that with the support of Punjab National Bank a Multipurpose Vocational Training Institute will be opened at Sunni. He also demanded the shifting of Block Medical officers Office to Sunni and said that the Government should keep in mind the interests of the youth while framing the welfare policies.
Chief Parlimentary Secretary Mansa Ram, Deputy Commissioner Dinesh Malhotra, Chief Engineer PWD MS Thakur were present amongst other dignitaries present on the occasion.