In the Himachal Elections 2017, Shimla Rural is one of the most talked about, anticipated and watched after constituency. The reason being, Shimla rural was the constituency of incumbent CM Virbhadra Sing who left it to provide a soft launch pad to his son, Vikramaditya Singh, into politics. This is the reason perhaps Mr. Singh Sr. choose Arki to be his battle ground for Himachal elections this year.
If we talk about the Shimla rural seat, majorly BJP leader Promod Kumar Sharma and Vikramaditya Singh are face-to-face. Even Virbhadra Singh ensured to campaign for his son apart from giving him ticket from the constituency that is a strong congress bastion. Secondly, Mr. Singh Jr. is really toiling hard to make sure he leaves no stone unturned, particularly when the wind doesn't seem propitious for Congress in the state this time.
With Vikramaditya Singh stepping into the politics, he is all set to inherit his father's legacy and retaining his constituency marks the beginning. He is really toiling hard to convince people and as he talks with congress constituents and works, he looks, as understood for it's his first time, nervous. Gradually understanding the socio political milieu, he starts of his day campaigning across villages from 9 AM until late in the evening. Besides this, he is also ensures to check the social networking websites to ensure how the party and he in particular is faring with the youth.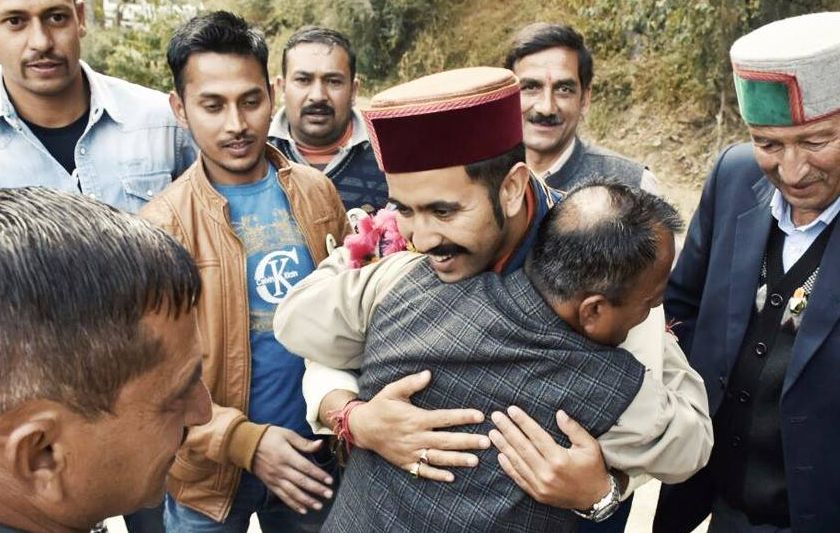 In a pursuit to woo the electorate and to do every little bit possible to ensure he gets the favor of the electorate on November 9, 2017, Vikramaditya Singh also making stern efforts to connect with the people of the constituency emotionally. The emotional connect is tried through his FB profile, wherein videos about the elections campaigns and he personally talking to the electorate through a video and defying allegations of BJP candidates about the sorry state of affairs in Shimla rural is something that is worth watching.
BJP doesn't even leaving anything on fate to ensure, Dr. Promod Sharma, who, as many veteran in Himachal politics opine, is the creation of Virbhadra Singh who funded him to fight election against Vidya Stokes as an independent candidate. However, this time, he won't let the golden opportunity to go waste as this could make or break his political career.