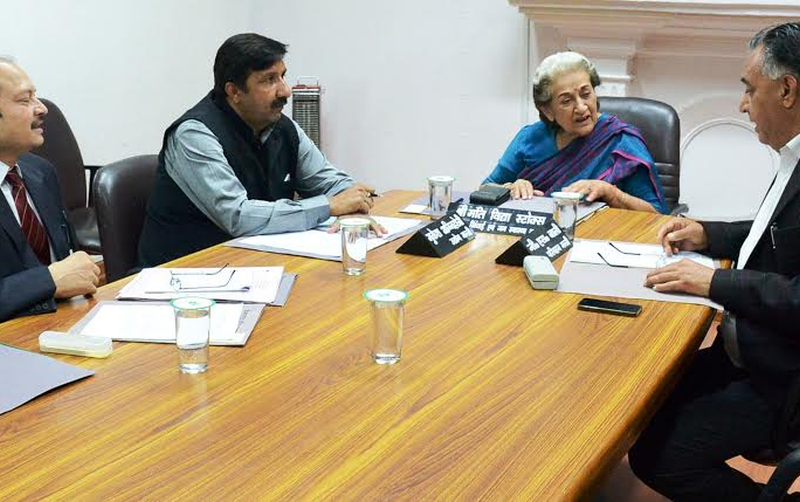 The first meeting of the Cabinet Sub Committee constituted for Resource Mobilization and Economic Measures was held here today under the Chairmanship of Irrigation & Public Health Minister Vidya Stokes. Other members of the Sub Committee Transport Minister G.S Bali and Industries Minister Mukesh Agnihotri also attended the meeting.
The position of receipts, both tax and non-tax accruing to the State vis-à-vis the expenditure incurred under various heads in the State was discussed. A detailed discussion was done to devise ways and means to mobilize resources and contain unproductive expenditure.
The Cabinet Sub Committee decided that since financial issues of the State were a matter of interest of the State as a whole, it decided to invite suggestions from all the political parties and the general public for which any person can give his suggestions on the following e-mail [email protected] or through letter to Principal Secretary (Finance) to the Govt. of Himachal Pradesh, HP Secretariat, Shimla-2.
The Sub Committee decided that in next meeting, detailed deliberations would be held with the Secretaries and the Heads of Departments of Revenue, Mining, Forest and Tourism for non-tax resource mobilization.
The issue of arrears of BBMB also came under discussion and it was decided to pursue the case vigorously in the Supreme Court. The allocation of Hydro Power Projects in the State would be expedited so as to ensure revenue to the State through upfront premium.
The Sub Committee also decided that the land available with various Govt. Departments would be identified and surplus land would be leased out for tourism and industrial purposes on 99 year lease through a transparent bidding/auction process.
With a view to check expenditure, the Sub Committee proposed ban on purchase of new vehicles till 31st March, 2015.