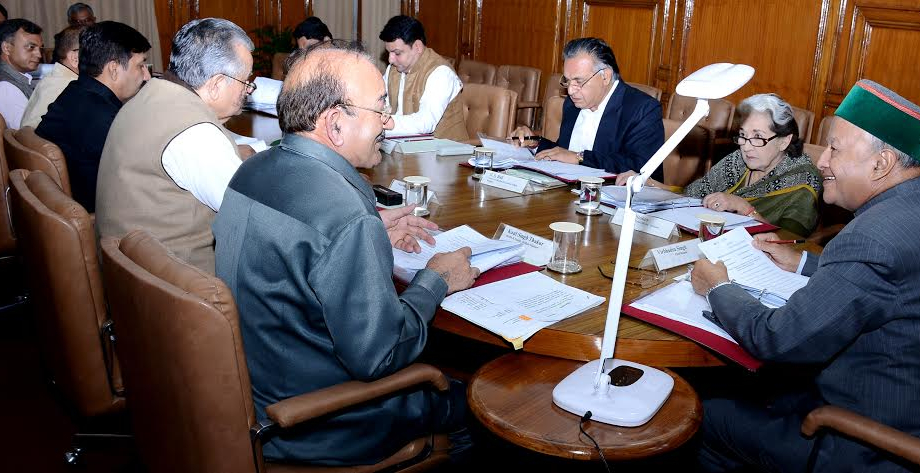 The Cabinet in its meeting held here today and presided over by the Chief Minister Virbhadra Singh, decided to approve few recommendations of the Select Committee regarding enactment of HP Lokayukta Act-2014 with the changes that the Chief Justice will be a Member of Selection Committee for appointment of Lokayukta.
The Cabinet granted approval to promulgate an ordinance of Himachal Pradesh Town and Country Planning Act, 1977 (Amendment) Ordinance 2014, so as to make necessary amendment in the Act.
It was decided to finalize the amended draft of Himachal Pradesh Tenancy and Land Reforms (Amendment) Rules, 2014. It was decided that in case industrial plots are to be allotted by the Industries department of Himachal Pradesh State Industrial Development Corporation, (HPSIDC), the permission of section 118 of the HP Tenancy and land Reforms Act, 1972 may be deemed to have been granted subjected to few provisions.
The Cabinet also decided to extend the time period of two years for Lara Sumta (104 MW) HEP and Sumte Kothang (130MW) and grant the time extension for a period to Chango Yangthang (180 MW) and Yangthang Khab (261 MW). It was proposed to accord in-principle extension of time without leving any extension fee to the Projects in Hang Rang Valley for the affected period till the ground situation in Hang Rang Valley becomes favourable towards implementation of Hydro Electric Projects. The Cabinet cancelled Dewar-I SHEP in district Kullu.
It was also decided to exempt electricity duty on the power generated for captive/standby consumption through Diesel Generating Sets or by what so ever mode for use of consumption for power projects with prospective effect. This follows the announcement of the Chief Minister Virbhadra Singh during interaction with Baddi-Barotiwall-Nalagarh Industries Association in July, 2014.
The Cabinet accorded its consent pertaining to amendment in Himachal Pradesh Agricultural and Horticulture Produce Marketing Act, which provides power to weight and packaging specification for all kind of fruits and stringent enforcement of grading norms to be adhered to uniform and standard quality of packed fruits and vegetables besides enforcement of weight as provided under the Act.
A decision was taken to enhance the honorarium of Water carries contract basis in Elementary and Higher education departments from the existing Rs 1300 to Rs. 1500 per month.
Nod was given to export surplus stock of fuel wood outside the State of Himachal Pradesh may be allowed after meeting the requirement of the Tribal areas as well as the different departments besides the domestic needs.
Cabinet accorded approval to grant of license for setting up distilleries/breweries and bottling plants in the state and inviting applications from reputed parties.
A decision was taken to create as many as 20 new posts of different categories in Himachal Pradesh High Court, besides filling up two posts in Ayurvedic College, Paprola through direct recruitment on contract basis. Approval was given to fill up 290 posts of supervisors in Department of Social Justice and Empowerment.
It was decided to construct Head Office building of HP Gramin Bank at Ramnagar Mandi.