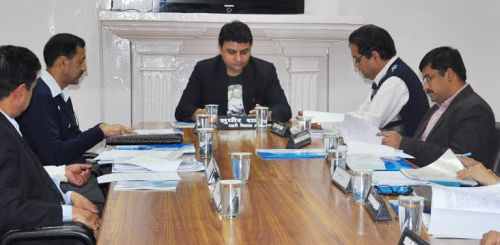 In the 32nd meeting of the Board of Directors of HIMUDA here today, Urban Development, Housing & TCP Minister Sudhir Sharma, said that HIMUDA should go beyond the conventional frame work of development and allotment of residential and commercial properties besides creating quality urban infrastructure.
Sudhir Sharma, who is also of Chairman of HIMUDA, said that HIMUDA should focus more on real estate components such as Shopping Malls, Soft-ware Technology Parks, leisure and entertainment facilities. He stressed for more aggressive policy for bringing investment co-reality estate project through the public private partnership mode and to ensure completion of the projects in a fixed time frame and maintaining quality in construction.
The Board approved the revised budget estimates of HIMUDA amounting to Rs.7, 356.78 lakh for the year 2013-14 and the budget estimates amounting to Rs.11, 344.05 lakh for the year 2014-15. Approval was given for the proposal of construction of five shops in Housing Colony at Sanjauli (Phase-III), Shimla amounting to Rs.1, 00, 53,600.
The Board approved proposal for the construction of 36 Category-I flats with parking floor, 24 Cat-II flats, five Shops and Halls under Partially Self Financing Scheme at Solan amounting to Rs.40, 54, 23,780. It also approved the proposal for the construction of Commercial Complex with Parking in Sector-I at Parwanoo amounting to Rs.2, 28, 32,500.
The Board gave its nod for construction of 72 Cat-I, 56 Cat-II, 48 Cat-III and 80 Cat-IV flats with parking floor in Trilokpur Housing Colony, in district Sirmour amounting to Rs.1,04,13,29,430. The construction work of this project will be done by the HIMUDA itself instead of the Public Private Partnership mode decided earlier. It gave approval for the construction of 56 Cat-I, 48 Cat-II, 32 Cat-III, 16 Cat-IV flats and four Cottages in Housing Colony at Sheel, Near Solan amounting to Rs.68,60,44,500. This project will also be constructed by HIMUDA itself.
The proposal for the construction 8 Cat-I flats with parking in Partially Self Financing Scheme at Sidhpur, Mohli, Dharamshala amounting to Rs.2, 77, 32,400 was also given approval. It also approved the proposal for the development of site i.e. Const. of Road & Retaining walls, providing external sewerage system, providing external water supply and supply of power to the newly carved out plots in Social Housing Colony at Nurpur amounting to Rs.18,51,800.
The approval has been accorded for the execution of various civil works of the H.P. State Co-operative Bank limited in the State through HIMUDA on the basis of Deposit work @ 9% Departmental charges.
The Board approved the proposal for raising loan amounting to Rs.25.00 Crores from HUDCO for Development of Housing Colonies at Jurna in Nahan and Subkhhera in Paonta Sahib.
The Board approved the proposal for the allotment of 161.50 Sq. of land to the Kalyan Samiti for Yoga Centre in Housing Colony at Solan, Phase-II.
The Board in principally agreed to start Medical Reimbursement Scheme for retirees of HIMUDA for which a committee would be constituted to exercise upon the possibilities and draft the eligibility criteria/terms and conditions within targeted period of one month for taking further necessary action.
It also principally agreed to short list the Transaction Advisors to facilitate the Urban Development and Integrated Hill Townships in Public private partnership mode through HIMUDA in the State.
The Board approved the proposal for the conversion of two posts of Part time Sweepers to daily wagers and to fill up one vacant post of Driver on daily wage basis in HIMUDA. It also agreed to fill up post of Clerks by promoting eligible Peons/Chowkidars by giving one time relaxation i.e. 10 % in the Recruitment & Promotion Rules.
The decision was taken to enhance the Financial and Administrative powers of the various functionaries of HIMUDA on the pattern of H.P.P.W.D to enhance efficiency and speed up delivery of service.
The Board approved the proposal for charging domestic rate of water at Parwanoo at par with the rates of I&PH department.
Vice Chairman, HIMUDA, Yashwant Chhajta also gave his valuable suggestions in the meeting.
Non-Official Members Suresh Kumar and Vikas Kapoor and other official members were present in the meeting.